ABM Archive Website
THIS WEBSITE CONTAINS ARCHIVE MATERIALS FOR HISTORICAL REFERENCE ONLY
For up-to-date information, including our latest appeals, news, and resources, please visit our current website.
2014 Partners Magazine Autumn Edition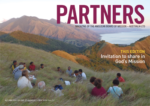 Dear Friend,
Welcome to the 2014 Autumn edition of Partners.
The apostle Paul spent a considerable amount of time writing letters to the Churches which not only dealt with issues of church order, but also sought to build connection between and across faith communities. Paul recognised that it was important for us to listen and learn from each other and understood that we all had a role in God's mission.
During my time at ABM, I have come to value enormously the long term relationships which have been built with Partners. Following in the footsteps of Paul, these relationships continue to allow us to work together and create opportunities to listen and learn from each other. As these partnerships develop,so too, does the sense of invitation – the invitation by God, that lies in mission.
As ABM's Education Officer, Greg Henderson, writes in respect of a Pilgrimage – that it is "a personal invitation from God, comprised of [God's] offer, and dependent upon the pilgrim's acceptance" – the same can be said about all mission. It is an invitation from God to us all as individuals or collectively as communities of faith, to share in God's mission. All of the stories that are featured in this edition, are invitations to commit to and engage in mission in different ways and in different places.
I invite you to read this edition of Partners looking specifically at the invitation that lies in each story.
Yours in Christ
The Rev John Deane
Executive Director
Download document

3.88 MB