ABM Archive Website
THIS WEBSITE CONTAINS ARCHIVE MATERIALS FOR HISTORICAL REFERENCE ONLY
For up-to-date information, including our latest appeals, news, and resources, please visit our current website.
2014 Partners Magazine Spring Edition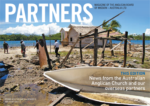 Welcome from the new Primate of Australia
Dear Friend,
In 1983 my wife, Joy, and I were sent to Kowanyama in Cape York Peninsula as some of the last generation of missionaries sponsored by ABM.
We had great passion for working amongst Aboriginal people and I was ordained deacon and priest by the Bishop of Carpentaria. Little did I know that, 30 years on, I would be writing as Primate of Australia in the Partners magazine.
As I reflect on the priorities I set when elected to the primacy in June, they are not far from my thinking back in the '80s when it seemed clear to me that the mission of Jesus Christ should be made known across Australia including remote and rural areas and that our Aboriginal and Torres Strait Islander people deserve our particular respect.
My priorities for the Australian Church are: being present nationally; reconciliation of Indigenous and non-Indigenous Australians; and the Asia-Pacific region.
We must find ways of ministering to people across the vast expanse of our nation continent. Coastal cities are home to the majority of Anglicans but how can we revitalise our mission to rural Australia or even encourage and support clergy to take up positions in rural regions? Our national presence can no longer be taken for granted.
Reconciliation in Australia remains a great challenge. A new story is needed, a story of our Indigenous people who have blessed us by welcoming into friendship people who are the successors to those who killed and displaced their ancestors. In a world where people have long memories that fuel unforgiveness, the Aboriginal and Torres Strait Islander people of Australia are remarkable in their application of Jesus' teaching about restored relationships with the non-Indigenous people of this country.
Finally, we value the worldwide Anglican Communion! Partnerships are already in place with many of our near neighbours of the Asia Pacific and I hope that these will be both strengthened and widened.
Grace and peace in Christ Jesus,
The Most Reverend Dr Philip L Freier
Primate of Australia

Download document

2.09 MB