ABM Archive Website
THIS WEBSITE CONTAINS ARCHIVE MATERIALS FOR HISTORICAL REFERENCE ONLY
For up-to-date information, including our latest appeals, news, and resources, please visit our current website.
2015 Partners Magazine Spring Edition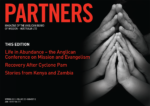 Dear Friend,
I have recently returned from the celebration of the 125th Anniversary of the first mission to Korea that in time gave birth to the Anglican Church of Korea. It was an occasion that brought people from around the communion to celebrate with the Church – a celebration that was both thankful and hopeful.
ABM has been partnering with the Anglican Church of Korea over many years.
The connection began well before the Second World War when ABM supported the Church in Korea
through the work of USPG.
After the Korean War there was more interest from Australia to engage with the Church and people of Korea. As a result, a missionary, the Rev David Cobbett, went to Korea in the 50s and was instrumental in an area called Pusan or Busan. He built up a parish there which laid the foundation for a Diocese and also for the ongoing relationship with ABM. His work continues to be acknowledged and celebrated by the Church.
In recent years much of our partnering has been focused around the Towards Peace in Korea (TOPIK) Programme which seeks a peaceful reunification for the Korean peninsula. For many Koreans the current political division of the country is a tragic development which runs counter to the long history of the Korean people and their settlement of the peninsula.
The history of the Anglican Church exemplifies the impact of this tragedy. Prior to the Korean War the Anglican Church in northern Korea was strong and vibrant. Sadly since the War almost nothing has been heard or is known about the fate of the Church. While recognising the heritage and the loss, the TOPIK Programme seeks a realistic way forward based on the understanding that South Korea may also need to accept change if the whole is to become greater than the sum of its parts.
Among a number of most noteworthy mission initiatives are the Houses of Sharing. These function within parishes throughout the Church and are an inspiring development. In this model the commitment to reach out and engage the most disadvantaged in society becomes central to the life of the Christian community. It is an exciting and challenging expression of holistic mission and wonderful to see how all five of the marks of mission are so clearly present.
I continue to give thanks to God for the witness of the Anglican Church in Korea and I would ask your prayers for them, their work and all the people of Korea.
Yours in Christ,
The Rev John Deane
Executive Director
View the 2015 Spring Partners Magazine online
Download document

2.87 MB