ABM Archive Website
THIS WEBSITE CONTAINS ARCHIVE MATERIALS FOR HISTORICAL REFERENCE ONLY
For up-to-date information, including our latest appeals, news, and resources, please visit our current website.
2016 Project Book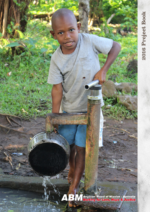 Dear Friends,
Welcome to the 2016 edition of ABM's Project Book, bringing to you the work of our Partners here in Australia and overseas.
Within the Project Book, you will find a range of projects which express ABM's commitment to mission through partnership. The spectrum of activities is diverse as ABM responds to spiritual and physical need in the world around us.
All the projects give witness to the transforming love of God – the Father, the Son and the Holy Spirit and bear the "marks of mission". Where possible they seek to remedy or alleviate the actual causes of need and injustice to provide sustainable change and benefits.
I am often asked why we should continue to commit to overseas work when there is need here in our own backyard. My response is fairly simple. Firstly, the gospel knows no boundaries and nor should we. Secondly, it gives us a perspective on how affluent and fortunate we are and how much we have to share – both here and there! Thirdly, God calls us to mission so that we grow as well. Our Partners may not be rich but they are usually spiritually blessed and have much to share and teach us in return.
I would ask you to consider supporting one or more of these projects over the next 12 months. Such support may take a number of forms – through giving, prayer and making the work known to others.
At the same time I would like to thank each of you, whether individually or collectively through your diocese, parish or school, for the support that you have provided to ABM and our Partners last year.
I hope that you will be inspired by the work of our Partners and continue to give thanks to God for their faithfulness.
May you have a blessed and prosperous 2016.
Yours in Christ
John Deane
ABM Executive Director
View the 2016 Project Book online or
Download document

5.89 MB