ABM Archive Website
THIS WEBSITE CONTAINS ARCHIVE MATERIALS FOR HISTORICAL REFERENCE ONLY
For up-to-date information, including our latest appeals, news, and resources, please visit our current website.
2017 Partners Magazine Spring Edition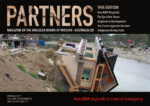 A WORD FROM THE ARCHBISHOP OF PNG ALLAN MIGI
Dear Friends,
On behalf of the Anglican Church of Papua New Guinea I would like to thank the ABM-Australia in its commitment and continual mission partnership with ACPNG in the past, now and into the future.
The Anglican Church of Australia through ABM and ACPNG have been strong partners for many decades.
On 3rd September 2017, I was enthroned as the new Archbishop & Primate of the Anglican Church of Papua New Guinea. On 4th September the ACPNG House of Bishops had the Church partners meeting.
We discussed many good things in this church partnership meeting. One purpose of the meeting was to revive and strengthen the ongoing traditional links and partnership with our church partners like ABM-Australia, New Zealand Mission Board, Church Partnership in UK, the Anglican Province of Melanesia and also talk about other diocesan links.
I would like to assure you ABM-Australia that our partnership must be ongoing and be strengthened by rich programs in the many years to come.
We look forward to exploring and finding new ways, ministries, projects, and prayers that will enrich our partnership in the long run.
Thank you!
My love and prayers,
Archbishop Allan Migi
Anglican Church of Papua New Guinea
Download document

4.66 MB