ABM Archive Website
THIS WEBSITE CONTAINS ARCHIVE MATERIALS FOR HISTORICAL REFERENCE ONLY
For up-to-date information, including our latest appeals, news, and resources, please visit our current website.
2017 Project Book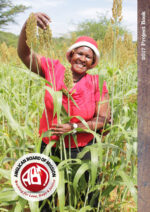 Dear Friends,
Greetings, and welcome to ABM's Project Book for 2017. This publication highlights the projects ABM will be supporting during 2017 through the work of its partners in Australia and overseas – partners who have enthusiastically joined in God's mission in the world.
This year we have several new projects for you to consider supporting. Two are from our Reconciliation Program – the Northern Territory Discipleship Track (p.12) which assists Aboriginal Christians in remote areas to access training and support as they seek to witness to Christ in their communities, and Reconciliation (p.11) which aims to resource Australian Anglicans in our ongoing Reconciliation journey.
There are also three new projects for you to consider supporting in PNG – the Adult Literacy program (p.20) has suffered funding cuts in recent years and greatly needs your support. Disaster Management (p.21) is a new endeavour for the Anglican Church of PNG, assisted by Anglicare PNG, and is a result of the El Nino drought which has impacted in different parts of the country and has made people realise that although disasters may come, there are ways to prepare effectively and to reduce the impacts of such events. Our other new project is an exciting Church to Church project which addresses a range of issues facing modern youth in remote Dogura Diocese (p.20) –engaging young people with activities relevant to them within the church is seen as a strong alternative to the drugs and alcohol which can often become attractive to youth as they survey their options.
We also offer you the opportunity to support ongoing projects which, thanks to your help, have been successful in previous years and we pray they continue to be so. Some of these successful projects are moving to new communities or new parts of the church, and other activities are being taken to the next level.
I hope you will enjoy reading about all of ABM's new and ongoing projects, and that you will find something here that you feel called to support both with your prayers, and in a more material sense.
As we enter 2017, ABM gives thanks to God, both for our partners in mission, and the communities and individuals they work with, and to you in your support of God's mission. May we all enjoy the richness of God's blessings, which we receive through the grace of our Lord and Saviour, Jesus Christ.

Julianne Stewart
ABM Programs Director
View the 2017 Project Book online or
Download document

7.89 MB