ABM Archive Website
THIS WEBSITE CONTAINS ARCHIVE MATERIALS FOR HISTORICAL REFERENCE ONLY
For up-to-date information, including our latest appeals, news, and resources, please visit our current website.
2019 Pew Reflections – Fourth Quarter (Oct-Dec)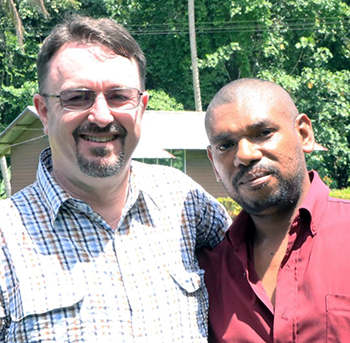 Partnerships Missioner Robert McLean with Leki Kambari.
© Fr Nick Mkaronda, 2019
Let the word of Christ richly dwell within you.
(Colossians 3:16a)
In his Nineteenth Homily on the Acts of the Apostles, St John Chrysostom (d. 407) writes, 'It is not possible, I say not possible, ever to exhaust the mind of the Scriptures. It is a well which has no bottom'.
It is a pleasure to present the final quarter's set of ABM's Pew Reflections for 2019.
This set has been written by Robert McLean, ABM's Partnerships Missioner.
We hope that these reflections will stimulate you to ponder more deeply as you read or hear what God is saying to the Church, and to you, through the Sunday and feast day readings. We hope that they will be a springboard for you to delve more deeply into the Holy Scriptures.
In Christ,
Wilnor Flores
Church to Church Program Officer
Download document

629 KB