ABM Archive Website
THIS WEBSITE CONTAINS ARCHIVE MATERIALS FOR HISTORICAL REFERENCE ONLY
For up-to-date information, including our latest appeals, news, and resources, please visit our current website.
2020 Lent Resources
Lent 2020 – New Bible study explores the Book of Acts and the 5 Marks of Mission
Click here to preview an online version of the study
Warning: Aboriginal and Torres Strait Islander readers are warned that the publication may contain images and names of deceased persons.

WHERE DO WE GO FROM HERE?
The season of Lent has a very clear direction. It leads us to the cross, and in the great Festival of Easter, takes us through death into the joy of the Resurrection.
Good so far, but, once we have arrived on the other side of death, where do we go?
This has always been the question faced by the church. At the Ascension, we are told Jesus commanded us to 'go out into the world to make disciples'. But how? Which direction first? With whom? For how long? Are we there yet?
There are easy, pat answers to these questions, answers grounded in the mission, tradition and theology we have breathed in since we first started to attend church, answers that may have more to do with 'then' than they have to do with 'now'. As with most 'easy' answers, a closer look reveals that each answer contains within it many more questions.
So, let's look at the early church and once again celebrate the passion, enthusiasm, miracles, unity and determination that are so evident in the Book of Acts. Surely the answers are there? Perhaps. Or, more likely, in re-reading Acts, we will discover questions and clues about how we might enter into the great adventure of 'mission' in our own time and place. In Australia. Today.
Whether it be in your home, your church, your suburb or the wider world, the call of mission is the call to be engaged with, to love and to honour all that God has made. We walk the Gospel into the world not simply through words but through our actions. Mission is the continuation of the great Incarnational love story between God and all that God has made.
Kickstart your heart, rev up your missional engines and get stuck into Acts…..of justice, mercy and compassion.
Written by Steve Daughtry, ABM Missioner and Parish Priest, and Matthew Anstey, Hebrew Scholar and emerging Public Theologian, these studies will cajole, challenge and encourage you to think deeply about mission in the here and now.
>> Click here to preview an online version of the study
>> Available as an 86 page printed book for $5.50 (10 copies or more) or $11 (individual copies)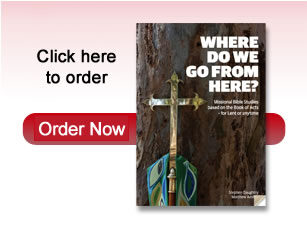 Contents
Sunday Best (Acts 11:1-18)
Heart to heart (Acts 2:1-13)
We never journey alone (Acts 8:28-40)
The death of gods, the life of God (Acts 17:16-34)
It passes all understanding (Acts 5:17-42)
The hospitality of strangers (Acts 28:1-10)
Download document
4 KB