ABM Archive Website
THIS WEBSITE CONTAINS ARCHIVE MATERIALS FOR HISTORICAL REFERENCE ONLY
For up-to-date information, including our latest appeals, news, and resources, please visit our current website.
2021 PROJECT BOOK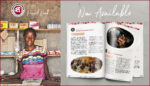 As promises of an effective vaccine give countries, at least in the developed world, new cause for hope, it is timely to reflect on the impact COVID-19 has had, and continues to have, on ABM's projects and on the international development and humanitarian scene generally.
These impacts have created challenges but have also reinforced the critical nature of ABM's community development projects for impoverished communities.
During 2020, some of ABM's partners and the projects they implement were hit harder than others. The Philippines, where two partners live and work, was particularly hard hit. By late 2020 there had been almost half a million cases of COVID-19 – the highest number in Southeast Asia – and over 8,000 deaths. There have been national lockdowns, followed by more localised lockdowns, preventing many poor people from buying and selling at nearby markets if they happen to be in a different local government area.
In Myanmar, we hear a common story. The virus was thought to have all but gone, but now seems to have returned more virulent than before. Myanmar has more than twice Australia's population, but its testing rate is about 3% of ours. Most of the cases are in areas of high population density such as the capital, Yangon.
It is similar in Papua New Guinea. For many months there were just a few cases, most of them easily traceable. But, not long after a new spike began, people were reluctant to get tested. In many countries where education levels are lower, social media scare campaigns can gain a lot of traction.
ABM's projects supporting theological education, for Aboriginal and Torres Strait Islander Anglicans and also in other parts of the world, seek to provide the capable and visionary leadership required to guide the church and community in the midst of these challenges.
ABM and its partners and communities have had to be flexible and innovative. The projects you have supported in the past have helped to make this possible.
In Papua New Guinea the church and its outreach arm, Anglicare PNG, have been pro-active in going into communities, churches and schools to dispel harmful myths and install handwashing facilities.
There is a similar story in Vanuatu, with the church there spreading helpful messages about preventing the spread of the virus, keeping people safe at this time.
In Kenya, too, the church stepped up early and trained and commissioned community health workers to carry messages of protection and prevention to the most remote farming communities. And bishops blessed new water tanks installed in communal areas where most people could access them.
All of ABM's partners have expressed particular gratitude for the extra support you have given them during this time. They've said it is comforting to know that there are people who care about what happens to them, whether a near neighbour, or on the other side of the world.
I commend this year's projects to you and urge you to become engaged in God's mission through the projects you select. The need for your support is greater than ever.
The Rev'd Dr John Deane
ABM Executive Director
Download document

10.79 MB