ABM Archive Website
THIS WEBSITE CONTAINS ARCHIVE MATERIALS FOR HISTORICAL REFERENCE ONLY
For up-to-date information, including our latest appeals, news, and resources, please visit our current website.
National Reconciliation Week, 27 May – 3 June 2017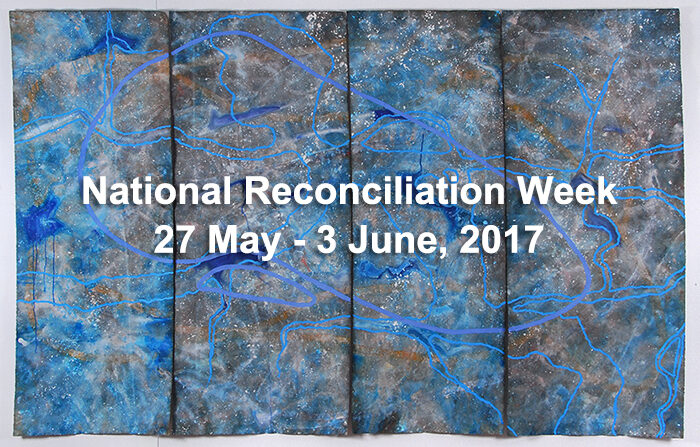 Artwork by Frances Belle Parker, "Identity of My Homeland Ulgundahi". Image courtesy of Artist.

Resources for National Reconciliation Week
27 May to 3 June is National Reconciliation Week, also known as the Week of Prayer for Reconciliation.
Exploring Exile: National Reconciliation Week Reflections
The Reverend Glenn Loughrey, a Wiradjuri man, artist and priest-in-charge of St Oswald's Anglican Church in Melbourne has written resources to help engage with the week.
Glenn uses a powerful combination of art, poetry and story to explore the experience of exile as a means of transforming injustice.
Download a .pdf copy of NRW Reflections:
'Whose Power Anyway?'
A Reconciliation Sermon preached by The Reverend Jasmine Dow as part of the Trinity College sermon series entitled "Sex, Money, Power." Listen here.
Acknowledgement Poster
A poster for use in your parish or school that acknowledges and celebrates the tradition custodians of the land and waters we call Australia. Download the poster here.
National Reconciliation Week Partners edition
The special National Reconciliation Week edition of Partners magazine focuses on the voices of Aboriginal and Torres Strait Islander Australians from around the Anglican Church, and the significant gift that these voices offer the national church. In this edition you will find articles that speak of Aboriginal and Torres Strait Islander theologies, incarceration rates of indigenous peoples, updates from NATSIAC, and an interview with Blake Prize winning artist, Frances Belle Parker, Yaegl woman. Download the magazine here.

Liturgical Resources
Prayers for use in liturgy during National Reconciliation Week and beyond.
Prayers for the beginning of worship (.pdf)
Find out more about National Reconciliation Week (NRW) here:
http://www.reconciliation.org.au/nrw/
Download document
4 KB