ABM Archive Website
THIS WEBSITE CONTAINS ARCHIVE MATERIALS FOR HISTORICAL REFERENCE ONLY
For up-to-date information, including our latest appeals, news, and resources, please visit our current website.
National Reconciliation Week, 27 May – 3 June 2018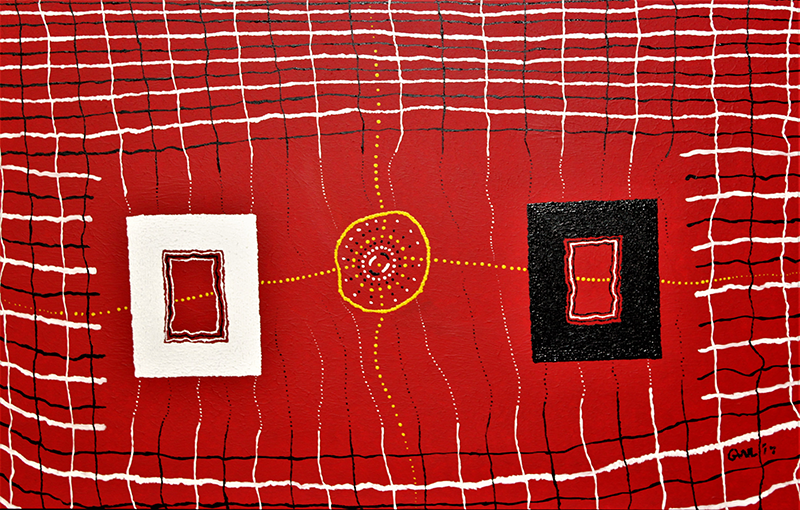 'Treaty' by the Reverend Glenn Loughrey
Listening to the Statement from the Heart
Twelve months ago, First Nations representatives at Uluru released the Statement from the Heart.
The statement has been endorsed by the National Aboriginal and Torres Strait Islander Anglican Council (NATSIAC).
ABM's Reconciliation Coordinator, Celia Kemp (author of Into the Desert) has written an 8-part study to open up conversation about the church's theological response to the Statement from the Heart. The studies are for those interested in a Christian response to Australia's history, listening to what Aboriginal and Torres Strait Islander Christians are saying right now, and grappling with the question of what it is to be a truly Australian church.

If you would like to register your interest in purchasing printed copies of the study, click here.
Liturgical Resources
Prayer for the beginning of Worship
A National Reconciliation Week Liturgy
The Reverend Glenn Loughrey, whose art illuminates the study, has written a new
Australian Eucharist that explores our use of Australian language and spirituality in liturgy.
You can read Glenn's reflections and download the liturgy here.
(A reminder that you should approach your bishop before using experimental Eucharistic liturgies).
Find out more about National Reconciliation Week at www.reconciliation.org.au/nrw/
Download document
4 KB