ABM Archive Website
THIS WEBSITE CONTAINS ARCHIVE MATERIALS FOR HISTORICAL REFERENCE ONLY
For up-to-date information, including our latest appeals, news, and resources, please visit our current website.
Transforming Service Conference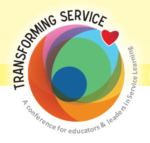 An ecumenical service learning conference for primary and secondary educators
This is an invitation to educators involved in leading or organising service learning activities in Australian schools.
The Transforming Service Conference will bring together Service Learning professionals from all over Australia to share a national picture of service learning activities and to work together on advancing the understanding of service learning and the foundations which underpin service encounters.
The Transforming Service Conference is an ecumenical initiative that recognises the rich variety of approaches to service across Australian faith-based schools. The conference will focus particularly on secondary schools but recognises that many schools adopt of whole-of-school approach to service learning. International and cross-cultural service encounters will be a focus of discussion, alongside local endeavours.
Registrations will open in term 3, 2015.
Cost: $375
Dates: April 14-16, 2016
Venue: Australian Catholic University Leadership Centre, Elizabeth Street, Brisbane
Download a .pdf copy of the Transforming Service Conference details.
The Transforming Service Conference is supported by:
Australian Catholic University | Caritas Australia | Anglican Board of Mission
Anglican Schools Commission Southern QLD | Brisbane Catholic Education
Download document
4 KB