ABM Archive Website
THIS WEBSITE CONTAINS ARCHIVE MATERIALS FOR HISTORICAL REFERENCE ONLY
For up-to-date information, including our latest appeals, news, and resources, please visit our current website.
Rest in Peace U San Lin, Guide and Mentor, Church of the Province of Myanmar
July 29, 2021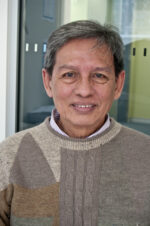 On Monday 26 July 2021, ABM was greatly saddened to learn of the sudden death of U San Lin, known to many as Peter and to almost everyone as 'Uncle', as a result of a Covid-19 infection. More than a decade ago Peter and his wife Joy ('Aunty') were invited by Archbishop Stephen Than Myint Oo to guide and mentor the Church of the Province of Myanmar as it sought to expand its relief and development work. 'Uncle' came to the CPM with a lifetime of experience within the development sector and at that stage on the verge of retirement they were prepared to make a commitment of two years. Extension after extension followed and over the years that have followed Peter and Joy, an inseparable couple with a shared ministry, have worked tirelessly to help the Church grow a substantial program bringing relief and benefit to many of the most poor throughout Myanmar. 'Uncle' was working until two days before his death on a proposal to strengthen the Church's response to Covid-19.

It was my privilege and pleasure to spend time and travel with 'Uncle' on a number of occasions. He was a gentle and compassionate man with a great sense of humour. He was also blessed with wisdom, skill, common sense, and an extraordinary ability to work with people. 'Uncle' will be greatly missed by all of us, but we have much to give God thanks for in his life and ministry. At this time our thoughts and prayers are with Joy ('Aunty') and with the rest of the family as they grieve.

May U San Lin rest in peace.
John Deane
Executive Director