ABM Archive Website
THIS WEBSITE CONTAINS ARCHIVE MATERIALS FOR HISTORICAL REFERENCE ONLY
For up-to-date information, including our latest appeals, news, and resources, please visit our current website.
Resurrection after Cyclone Winston
January 9, 2018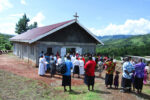 Yesterday the Anglican Communion News Service reported on the good news from the village of Maniava in Fiji which had been devastated by Cyclone Winston in 2016.


Two years after Cyclone Winston, Maniava's re-built church is consecrated
Almost two years since Cyclone Winston swept through Fiji, killing 44 people, the village of Maniava is celebrating its re-birth. Maniava, in the province of Ra on Fiji's main island of Vity Levu, sits on a hillside at the mouth of a valley. On the night of 20 February 2016, winds of up to 186 mph (300 km/h) destroyed the village and everything in it. Yesterday, Archbishop Winston Halapua, the Bishop of Polynesia, consecrated the newly re-built Church of the Resurrection and blessed 14 new homes and a school dormitory. He also ordained two new deacons to serve Maniava's 168 residents.
Thirty-four of Maniava's 38 houses were wrecked by the cyclone, which produced the most ferocious winds ever to strike Fiji. The new homes have been built to a code designed to withstand a repetition of Cyclone Winston: they are tied down, reinforced and braced. Even so, the new school has been designed to serve as a village shelter from any future storms.
The Fijian term for Easter Day is Siga Tucake, which is literally translated as "the day the man stands up", Anglican Taonga, the news service of the Anglican Church in Aotearoa, New Zealand and Polynesia, said. "You could say Easter came early in Maniava this year."
(This article is based on a report by Anglican Taonga – more images can be found here.)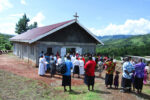 Archbishop Winston speaking to the villagers before the first service in the newly rebuilt church. © Pate Buekilagi/Sue Halapua/Anglican Taonga
ABM launched the Fiji Cyclone Emergency Appeal on 22nd February, 2016, in response to the disaster, aiming to raise AUD 10,000 and received over AUD 45,000 thanks to many generous supporters. This has contributed towards the rebuilding of Maniava.
In September 2016, ABM was invited to be part of a monitoring visit by the Anglican Alliance Pacific Regional Advisory Council (PRAC) to the village of Maniava. Read A Photo Essay by Julianne Stewart which reported on some of the rebuilding work.