ABM Archive Website
THIS WEBSITE CONTAINS ARCHIVE MATERIALS FOR HISTORICAL REFERENCE ONLY
For up-to-date information, including our latest appeals, news, and resources, please visit our current website.
REV'D GLENN LOUGHREY APPOINTED FIRST ABORIGINAL CANON OF ST PAUL'S CATHEDRAL, MELBOURNE
August 6, 2021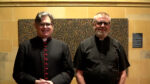 ABM is delighted to hear that the Rev'd Glenn Loughrey has been appointed a Canon of St Paul's Cathedral, and also its next Artist in Residence.
Glenn, a Wiradjuri man and member of NATSIAC, is well-known to ABM supporters, including for his art which features in ABM's A Voice in the Wilderness: Listening to the Statement from the Heart.
Read more about Glenn's appointment here:
https://cathedral.org.au/2021/08/04/first-nations-artist-appointed-canon-of-st-pauls-cathedral/?fbclid=IwAR2QP_1mD7Lx20U7HtPIitZowUPGgw7iKsTAZsWCoEdTu-wJsiDVH9is-Ok
You can also listen to Glenn talking last year about what Reconciliation means to him here:
https://www.youtube.com/watch?v=Q5OtVX0enQQ&list=PLkCs8biTcenmX5_Uj0Im7aGWhXvul09zu&index=6&t=209s