ABM Archive Website
THIS WEBSITE CONTAINS ARCHIVE MATERIALS FOR HISTORICAL REFERENCE ONLY
For up-to-date information, including our latest appeals, news, and resources, please visit our current website.
RIP ALLAN MIGI – former Archbishop of Papua New Guinea
October 22, 2020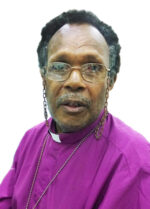 ABM has just been advised of the death of the former Archbishop and Primate of the Anglican Church of Papua New Guinea, Allan Migi. Bishop Migi died at around 3.00 this morning at Gasmata, his home village in West New Britain Province.
ABM extends our deepest sympathies to Mary Migi and the whole family at this time of sorrow, and to the Anglican Church of Papua New Guinea as they mourn a leader who dedicated himself to serving Christ's Church with humility and wisdom as a true shepherd.
As a bishop and as primate, Bishop Migi was a great friend to the Australian Church.
The Primate of the Anglican Church of Australia, the Most Rev Geoffrey Smith said, 'I give thanks to God for Bishop Allan Migi, who I've known for the past 30 years. He was a man of great energy and integrity who served his Lord in humility and great faithfulness'.
ABM's Executive Director, the Rev John Deane said, 'Archbishop Allan was a humble, amazingly faithful servant, passionate about the Gospel, the commitment to the wider community and the integrity of the Church. ABM had a long relationship with Archbishop Allan and we are incredibly thankful for his ministry and for the true expression of partnership during his primacy, a partnership that was full of respect and mutuality.
Give rest, O Christ,
to thy servant with thy saints,
where sorrow and pain are no more;
neither sighing, but life everlasting.
May he rest in peace and rise with Christ in glory.
---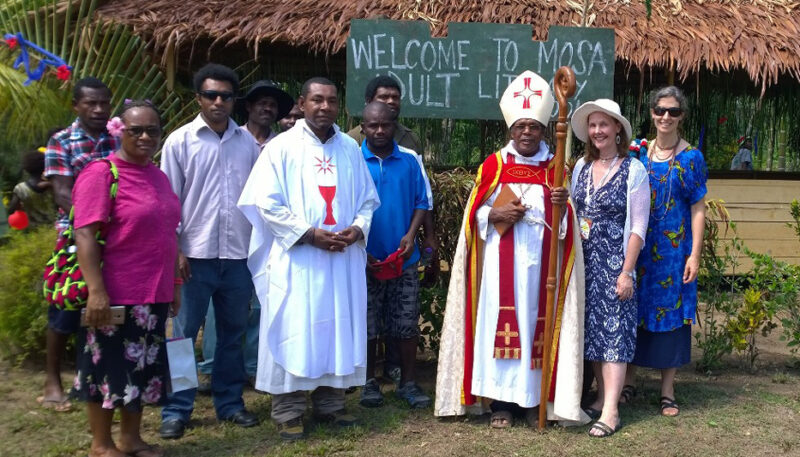 Archbishop Allan Migi with Archdeacon Wilson Makele, and ABM staff members Julianne Stewart and Meagan Morrison outside the Mosa Adult Literacy School after a Eucharist service. ©ABM/Julianne Stewart.
---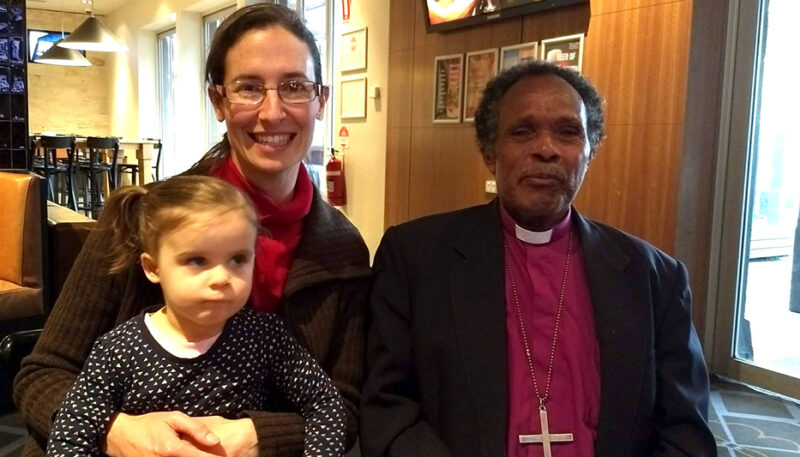 Archbishop Allan Migi with Meagan Schwarz and her daughter during a visit to Adelaide in September 2018.
©ABM/Meagan Schwarz.