ABM Archive Website
THIS WEBSITE CONTAINS ARCHIVE MATERIALS FOR HISTORICAL REFERENCE ONLY
For up-to-date information, including our latest appeals, news, and resources, please visit our current website.
RIP Bishop Bevan Meredith
December 17, 2019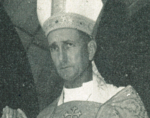 Lord, now let your servant go from here in peace, as you said, for at last my eyes have seen the Saviour who was promised to the world.
To the heathen he brings the light of truth, to the Church he's the glory of all time, O sing praise, O sing praises to our God.
Praise to God the Father, Son and Holy Spirit till the end of all the ages. Amen.
– Nunc Dimittis from the Anglican Church of Papua New Guinea Prayerbook
Bishop Bevan Meredith died this morning. Born in 1927, he was deaconed in the Diocese of Brisbane in 1961 and became Assistant Curate at Toowong. The following year he was priested in Brisbane for the Diocese of New Guinea and became Priest-in-charge of Managalas in PNG from 1963 till 1967. That year he was consecrated in St John's Cathedral, Brisbane, for the Diocese of New Guinea as an Assistant Bishop. Later, once the Church in PNG gained its independence, he was made Bishop of the New Guinea Islands (1977-1990) and Archbishop of Papua New Guinea (1990-1995). He retired to Brisbane.
Here is the 1967 account from the ABM Review of his consecration in Brisbane:
Funeral details: we have been advised that Bishop Bevan's funeral is to be at 10.00am on Monday 30 December at St John's Cathedral in Brisbane.
May he rest in peace and rise with Christ in glory.