ABM Archive Website
THIS WEBSITE CONTAINS ARCHIVE MATERIALS FOR HISTORICAL REFERENCE ONLY
For up-to-date information, including our latest appeals, news, and resources, please visit our current website.
RIP Bishop Brian Kyme (1935-2020)
April 17, 2020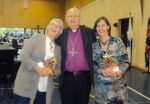 RIP Bishop Brian Kyme (1935-2020)
Bishop Brian Kyme, who was ABM's National Director from 1993 till 2000, died at home last night as a result of cancer.
Bishop Brian and Doreen have been surrounded by members of their family. As we remember him, we also pray for Doreen, Hilary and Jeremy, Stephen and Suzie, and the grandchildren Eliza, Fraser, Julia, Rolly and Gus.
Rest eternal grant unto him, O Lord,
And let light perpetual shine upon him.
May he rest in peace
And rise with Christ in glory.
Click here to read The Rt Rev Brian Kyme Obituary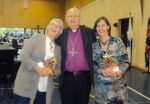 (L-R) Authors Jan Carroll and Bishop Brian Kyme at the 2013 launch of ABM's history, Grit and Grace, with Dr Julianne Stewart, our then Programs Director.