ABM Archive Website
THIS WEBSITE CONTAINS ARCHIVE MATERIALS FOR HISTORICAL REFERENCE ONLY
For up-to-date information, including our latest appeals, news, and resources, please visit our current website.
RIP Bishop Saibo Mabo
May 15, 2017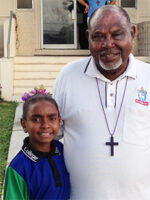 ABM was sad to learn of Bishop Saibo Mabo's death. Bishop Mabo was the National Torres Strait Islander Bishop between 2002 – 2015. He also represented the Anglican Church of Australia for a time on the National Aboriginal and Torres Strait Islander Ecumenical Council.
As this interview two years ago with the ABC (Australian Broadcasting Corporation) demonstrates, Bishop Mabo's faith was strong and helped guide him and his community on their journey with Jesus. http://www.abc.net.au/local/stories/2015/08/27/4301140.htm
The prayers of ABM are with his family at this time.
May he rest in peace and rise in Glory with Christ.
1st June, 2017 – Funeral Service for Bishop Saibo Mabo
Please be advised that the funeral of the late Bishop Saibo Mabo will be held on 16th June, 2017, at 10.00am at All Souls & St Bartholomew Anglican Church, Thursday Island.
If you have any further queries, please contact Pauline Ah Wang, Priest Warden, on mobile number 0438810309.
Image: Bishop Saibo Mabo with his grandaughter Rita onThursday Island. © Malcolm MacCallum/ABM 2014.