ABM Archive Website
THIS WEBSITE CONTAINS ARCHIVE MATERIALS FOR HISTORICAL REFERENCE ONLY
For up-to-date information, including our latest appeals, news, and resources, please visit our current website.
RIP Rev'd John Cottier
August 19, 2020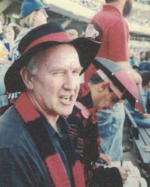 Photograph from John's Requiem Eucharist Service booklet, 12 August, 2020. © Cottier family.
Vale John Cottier –
an ABM missionary with a generous heart for God's work
Written by ABM Perth Diocesan Committee Chair, Rev'd Lionel Snell
On Wednesday 12 August 2020 family, friends and colleagues gathered to give thanks to God for the life, love and witness of God's faithful servant, John Cottier.
As a young man John acknowledged the call that God was making on his life, and offered for the ordained ministry. At the tender age of 23 John was ordained to the deaconate and was ordained priest the following year. So began a life-long ministry to God's people, and people who were still to find God.
In his early ministry John heard and read a lot about the need to proclaim the Gospel in other places. He felt that, as a young man and an ordained priest, it was his duty to respond. And so he became an ABM missionary and was sent to Papua New Guinea.
John's first placement was at New Britain and it was at an education conference that he met a young Judith Hall. After the conference they both returned to their respective mission posts, and there began a long-distance romance by letter. John was well aware that Judy was a bright, enthusiastic and energetic young woman, who was in popular demand. At that time, short-wave radio had just been introduced and John decided to propose to Judy over the radio, with all manner of people listening in.
After they were married, John and Judy moved to Simbai where together they established a worship and learning centre. It was during this time that their children, John Jr and Trish were born.
On completing ten years of missionary service, John, Judy and their family returned to Australia where they ministered in Melbourne and Perth. They returned to Simbai in 2008 at the urging of their children, to revive memories of mission and early family life.
John was a great storyteller, and most of his stories had something to do with ABM and his missionary service in PNG. In 2011, he realised that a lot of ABM missionaries were growing old, and that a wealth of mission stories would be lost unless someone did something. Together he and Judy contacted a raft of missionaries and led them in the writing of stories about their time in the mission field. They then edited a book for ABM titled Missionary Memories.
In Perth, John was very active in supporting the work of ABM, serving on the local committee and the ABM Board. He was a great fundraiser for the work of mission. This also spilled over into his leisure activities. When playing golf with three of his colleagues, they would bet on each hole, and John insisted that at the end of the day the pot of money would be donated to ABM.
In 2020 John was awarded The Coaldrake Medal for his life-long and outstanding service to the mission of ABM.
The legacy that John leaves is a shining example of great faith, the love of God and a generous and willing heart for God's work.
Vale John Cottier, brother in Christ and missionary to the end.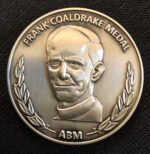 John received a Coaldrake
medal for his exceptional service
to God's mission.