ABM Archive Website
THIS WEBSITE CONTAINS ARCHIVE MATERIALS FOR HISTORICAL REFERENCE ONLY
For up-to-date information, including our latest appeals, news, and resources, please visit our current website.
South Sudan conflict
July 22, 2016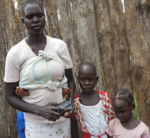 As the violence continues in Juba and throughout South Sudan, ABM has answered a call for help from the Episcopal Church of South Sudan and Sudan (ECSS&S). Aid funding is being sent to the relief and development arm of ECSS&S, the Sudanese Development and Relief Agency (SUDRA), to assist 14,400 of the internally displaced people. This will provide emergency food rations for the most vulnerable children, women and elderly in Juba, Kajo Keji, Yei, Lainya and Rajaf.
Recent clashes between the ruling parties of the Sudan People's Liberation Movement have led to the displacement of around 40,000 people, with widespread looting and destruction by these armies creating an acute shortage of food. Few people can afford the now inflated food prices, placing vulnerable sections of the population at great risk of malnutrition and disease.
The chaos and confusion has also led to many families being separated, and reports indicate that there are now over 100 children in refugee camps without parents or guardians. One disabled girl was abandoned by her parents during the intense fighting, unable to be carried outside in the dangerous conditions. She lived for 7 days without food or water, until the conflict moved on and her family could return.
ABM is monitoring this ongoing situation through partnership with the Anglican Alliance and SUDRA, the Relief and Development arm of the Episcopal Church of South Sudan and Sudan. Follow this link to read a media release posted by the Anglican Communion News Service: Anglican Alliance helps to co-ordinate global response to South Sudan violence.