ABM Archive Website
THIS WEBSITE CONTAINS ARCHIVE MATERIALS FOR HISTORICAL REFERENCE ONLY
For up-to-date information, including our latest appeals, news, and resources, please visit our current website.
South Sudan Emergency Appeal Update – May 2014
May 12, 2014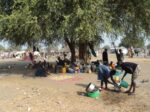 Appeal Update 12 May, 2014.
ABM has been in fortnightly telephone contact with the Sudan Development and Relief organisation (SUDRA) of the Episcopal Church of South Sudan and Sudan (ECSS&S) and the Anglican Alliance network.
The latest news is that the church has virtually completed phase one of their response of providing food and shelter to the thousands of internally displaced people around South Sudan and are about to commence phase 2. Thank God the rains did not prevent the distribution of these much-needed supplies to those in most need.
ABM's supporters will know of the good news over the weekend of the signing of a ceasefire by both sides in the conflict, signalling an apparent commitment of both sides to achieve a lasting peace for South Sudan. ECSS&S Archbishop Daniel Deng is one of three church leaders who had been invited to attend the peace talks in Addis Ababa.
Following from this news, phase two of the church response will focus on the training of bishops, clergy, laity and government workers in the ongoing peace and reconciliation process at local, provincial and national levels, as well as continuing to provide food and shelter relief to the many still in need both inside and outside the UN camps.
A total of more than 1.5 million people have been displaced, either internally in South Sudan, or across the borders in countries like Ethiopia, Uganda and other neighbouring countries.
Although things have settled down a lot in the capital, Juba, and in much of the south of the country, the situation in Renk, Malakal and Bentiu is still very dire. People are still hiding out in the bush, fearing for their lives if they return to their homes, or what is left of their homes in many cases. Most have made their way to the camps and are afraid to return home.
There is still much work for the church to do.
We ask you to continue to be generous in your support of this work, and to continue to pray for a lasting peace in South Sudan.
ABM wants to send another $50,000 to ECSS&S to assist their ongoing relief and reconstruction efforts in South Sudan.
To find out more about this Appeal, please visit www.abmission.org/southsudan.
Please donate to this Emergency Appeal and help the people of South Sudan. Give online at www.abmission.org/southsudan_donate or phone 1300 302 663.