ABM Archive Website
THIS WEBSITE CONTAINS ARCHIVE MATERIALS FOR HISTORICAL REFERENCE ONLY
For up-to-date information, including our latest appeals, news, and resources, please visit our current website.
St Andrew's Day
November 27, 2014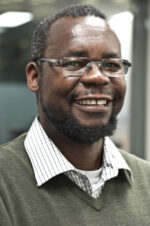 As Jesus was walking beside the Sea of Galilee, he saw two brothers, Simon called Peter and his brother Andrew. They were casting a net into the lake, for they were fishermen. "Come, follow me," Jesus said, "and I will send you out to fish for people." At once they left their nets and followed him. – Matthew 4.18-22
On St Andrew's Day the church remembers that mission is the heartbeat of the Church. For St Andrew's Day 2014 ABM has released a video from the Anglican Communion's Director for Mission. In the video, Rev'd John Kafwanka reflects upon the holistic nature of mission and invites us to join in Christ's ministry of reconciliation and compassion.
A LITANY FOR MISSION
God of graciousness, we thank you for the gift of life, and for the gift of yourself. May we accept these gifts with the love that they are offered, and be always thankful for them.
Our Father in heaven, hallowed be your name
God, power of love; in you are all people of the earth connected and sustained. May our lives be filled with your love, and may love be the aim of our outreach and mission to the people of your world.
Your kingdom come, your will be done, on earth as in heaven.
God, compassionate one, you have given us a world with resources for all. Yet in our greed we use more than we need, and leave others wanting. May we learn to share the resources you have given us, and may we reach out with assistance to those for whom life is not easy.
Give us this day our daily bread.
God of healing, our world is smeared with the grime of our failings. Open our eyes to the hurt that we cause others, and encourage us to stand against the injustice around us. May we show others the justice and mercy you show us.
Forgive us our sins as we forgive those who sin against us.
God, Saviour of us all, from you alone comes the strength we need to live in peace and unity. In the midst of war, poverty and all that wears down the human spirit, fill us with the power to proclaim your good news, and to live with hope.
Save us from the time of trial, and deliver us from evil.
God our creator, from whom flows the energy of life; pour into your creation your Spirit of joy and thankfulness. Inspire us to dream your dreams, to journey in your strength, to give birth to your vision, so all your creation will rejoice in the freedom of your love for us.
For yours is the kingdom, the power and the glory, now and for ever. Amen
(The Reverend Scott Holmes, Melbourne 2005)