ABM Archive Website
THIS WEBSITE CONTAINS ARCHIVE MATERIALS FOR HISTORICAL REFERENCE ONLY
For up-to-date information, including our latest appeals, news, and resources, please visit our current website.
Statement by Primate welcoming Aboriginal co-commissioner
August 5, 2016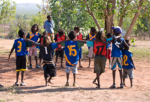 Statement by the head of the Anglican Church in Australia, Melbourne Archbishop Philip Freier:
Church welcomes Aboriginal co-commissioner
01 Aug 2016

The highest possible involvement of Aboriginal people is crucial in the newly announced Royal Commission into juvenile detention in the Northern Territory.
I commend the decision of former Northern Territory Supreme Court judge Brian Martin to stand down after reportedly fearing that some might see a potential conflict of interest, and welcome the inclusion of Aboriginal and Torres Strait Islander Social Justice Commissioner Mick Gooda as co-commissioner alongside former Queensland Supreme Court judge Margaret White.
I also commend the speed with which Prime Minister Malcolm Turnbull acted to call a royal commission hours after the Four Corners report highlighting the abuse of incarcerated Aboriginal minors was shown on television last week.
Having just visited a remote Arnhem Land community in my role as Primate of the Anglican Church of Australia, I was made aware again of the high incarceration rate among Indigenous youth.
In the Northern Territory, 97% of youth held in detention are Indigenous, despite Aboriginal and Torres Strait islander people comprising only 17% of the total NT population. This figure continues to rise and is deplorable. Indeed, research from the Australian Institute of Health and Welfare reveals that children who are placed in detention are three times more likely to return to detention within twelve months of being released.
Aboriginal Anglicans have told me how important it is for crime prevention and rehabilitation programs to be developed in consultation with Aboriginal people, and also urge the end of mandatory sentencing in the Territory.
(Source: http://www.anglicanprimate.org.au/press/church-welcomes-aboriginal-co-commissioner/)