ABM Archive Website
THIS WEBSITE CONTAINS ARCHIVE MATERIALS FOR HISTORICAL REFERENCE ONLY
For up-to-date information, including our latest appeals, news, and resources, please visit our current website.
Thank you and farewell…Adelaide Auxiliary closes after 108 years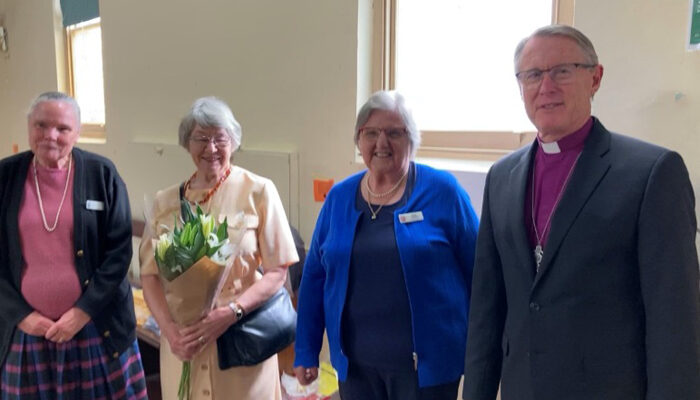 After 108 years of faithful and prayeful service, the Adelaide branch of the ABM Auxilary has finally closed its doors. More than 35 people attended a farewell service last Friday at which Archbishop Geoff Smith (pictured right) gave the sermon. Bishop David McCall, former chair of the South Australian Provincial ABM Committee gave a vote of thanks to the outgoing committee, and especially to Elaine Edwards (pictured second from left) who has been on the Auxiliary Committee in various capacities for over 40 years. Mary Catford (second from right), the current President of the National ABM Auxiliary, presented flowers to Elaine. Margaret McEvoy (left) is the immediate Past President.
Excerpts from a sermon given by Archbishop Geoff Smith 24 October 2020
…All that giving and praying and supporting made a difference to people's lives and the mission of the church. So, thanks very much to all who have been part of it. All of that made a difference.
In some ways it's sad that we have come to this point. It's sad that the Adelaide Auxiliary which has done so much over the years has finished its race, but that's what's happened. The race has been run and run well.
Elaine Edwards gave me some helpful history of the Adelaide auxiliary, including that it began in 1912, just two years after the Women's Auxiliary was launched in Sydney. The Auxiliary was part of a strategy by the Board as and I quote, 'part of a reorganisation program to make the existing machinery work for efficiently'.
The aims of the Auxiliary were: to work for the church overseas; to be the nucleus in the parish for active prayer, study and giving; to encourage and assist the parish to understand, accept and fulfil its responsibility for mission through ABM; to seek for missionary vocations and maintain prayer for missionaries.
In other words, to learn, pray and work for ABM. And that's what's been done and been done very well.
… I am a great believer in seasons. People, and organisations have their season… The season of the auxiliary has been very rich and it's appropriate to celebrate that and give thanks, moving on with no regrets.
The great thing is that the mission of the church continues. The mission of the church since Pentecost has been continuing for around one thousand, nine hundred and eighty-seven years. The Adelaide ABM auxiliary has contributed for the last one hundred and eight of those.
In the gospel reading today he heard Jesus sending out the seventy-two to go ahead of him and prepare the way, and that task continues today. The kingdom of God which Jesus came to announce and inaugurate hasn't come in all its fulness yet. That's why we keep praying-your kingdom come your will be done on earth as it is in heaven.
We pray that the kingdom will come, and we do what we can to point to its reality and encourage others to get on board with God's great vision for the future.
ABM also continues to do its part in this. ABM's role has changed in its history as the circumstances of mission have changed, but the sharing in the mission of God continues and goes on.
As a person who has been supported by the Auxiliary; been the national director of ABM and now the bishop of the Diocese, I'd like to say thanks for all you have done. While the Auxiliary is closed now, you are not. Our ministries continue as we pray, as we give and as we continue to learn of God's mission in the world. ABM still has important work to do and to support.
It's not over till the kingdom comes. There is more yet for us to do. May we have the grace to know how to use our skills and talents to keep on serving God and Gods work, until the kingdom comes, and Gods will is done on earth as it is in heaven. Amen.