ABM Archive Website
THIS WEBSITE CONTAINS ARCHIVE MATERIALS FOR HISTORICAL REFERENCE ONLY
For up-to-date information, including our latest appeals, news, and resources, please visit our current website.
Larapinta Challenge Supporter Stories
All around the world, there are communities burdened by poverty and injustice.
Unfortunately, many of these communities lack the means to transform themselves and overcome this disadvantage. But ABM has made it their mission to change this and 32 amazing Anglicans from across Australia have joined us in this mission, by taking on the ABM Larapinta Challenge, which they completed in late June and early July 2021. In the lead up to this challenge, they raised more than $115,000, which will be used to help overseas and Aboriginal and Torres Strait Islander communities transform themselves spiritually, materially and socially through holistic, long-lasting solutions to poverty and injustice.
From 21-27 June and 28 June-4 July, 29 enthusiastic adventurers walked 65km of Australia's most renowned walking track, the Larapinta Trail. Due to Covid related border closures, 3 walkers were unable to join their teams. They are booked to walk in August, and so will now make ABM Team #3! Please continue to pray for them as their training continues, and pray that border restrictions will be lifted and they can embark on their adventure.
If you would like to support the fundraising efforts of the walkers, please find your walker here:
https://abm-larapinta-total.raisely.com
Larapinta Story (Ascending and Descending Sonder by Michael Armstrong).
Read 'Rwetyeome, The Pregnant Lady' – the story of ascending and descending Sonder – by Rev'd Michael Armstrong
Trek #2 Trekkers Celebrate the Coming of the Light in the Finke River, Central Australia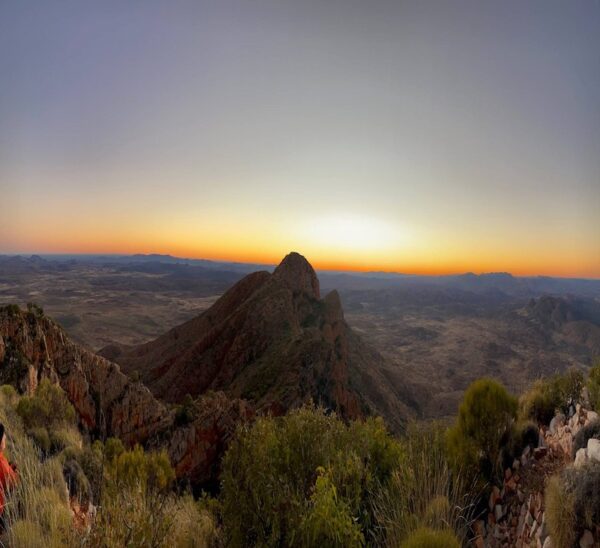 Larapinta Sunrise
Reflection by Jill Rivers
It was a deeply spiritually moving experience… Gathered together in a circle, in the dry Creek bed, under the generous shade of the river gums. Feet immersed in the cool course sand. The presence of the Holy Spirit was unmistakable moving within us, between and through us. Songs from the native Budgie and Zebra Finches filling the clean cool breeze.
An unforgettable way to experience a Eucharist led by 6 inspiring Priests, to commemorate the Coming of the Light.
Could not help but imagine what other groups of people have gathered in this creek bed in the past and what stories we could have shared. Felt much gratitude for Aboriginal and Torres Strait Islander people wisdom and connection to country. A strong desire to learn more about the history of this country.
A Sermon from the Rev'd Wendy Morecroft
The Rev'd Wendy Morecroft was one of the walkers on the second ABM Larapinta Challenge trek. Below she shares part of the sermon she gave in her parish church, Coromandel Valley, South Australia on the Sunday following the walk. In her sermon, based on Psalm 24, Wendy recalls a very special experience from Day 3 of the walk. Before starting the walk, Wendy and other trekkers spent time at the Campfire in the Heart at Alice Springs. You can also read more about Wendy further down this page.
Day 3 of the walk was Thursday 1 July. It was a long but easy walk. It finished in the shady sandy riverbed of the Finke River. Our guide asked us to share why the work of ABM was important to us. Given that it was the Feast Day of the Coming of the Light we also reflected on the peoples of the Torres Strait Islands and how they celebrate receiving the Gospel.
Then I, together with the five other priests on our trek, concelebrated the Coming of the Light Eucharist with our three guides and eight other walkers sitting all around. We had taken an aluminium camping mug and plate to be our patten and chalice. I had grabbed a gluten free tortilla to be the priests' wafer and we took some Shiraz. I couldn't think of anything to wear as a stole, but someone had the great idea to use our ABM flag as an altar cloth upon the sand. We six priests, all female, sat bare footed in the cool coarse sand around our altar in the welcome shade of a river gum. It was then that I really felt connected to the land – with my bottom making that same shape in the dense sand, that we see in Aboriginal artworks.
My feet were half buried in the soothing sand. This was the time when the prayer chant we had first chanted while walking the labyrinth at the Campfire in the Heart unravelled:
Come rest and wait in the wilderness
Listen and see with your heart
Rev'd Rosemary Gardiner (whose mother Rev'd Gillian Moses was with us) in place of a sermon, read an article by Queensland Senior Australian of this Year, Aunty Dr Rose Elu. Part of what Aunty Rose wrote is this: "Our spirituality lies in the sea, sky and land and since time immemorial our people have believed in a Creator, but we did not know that the Creator was the Christian God. The Coming of the Light commemorates the Gospel coming to us and giving us a name for the Creator,"
We used a Coming of the Light liturgy that was written by the Diocese of North Queensland and distributed to all the churches by Archbishop Geoff Smith. As I read these beautiful words that had been given to us, I felt the gentle breeze stir…
Kei augadh, (our-GOD, Father God from the Kalau Lagau Ya language of the Western Torres Strait) we give you thanks for your creation.
We give thanks for our islands that grow from the vast seas
and for the stars which guide our journeys
We thank you for the winds that carried the message of light to our shores
So that now we can share together in peace the gifts you give us.
For the coming of your light
We give you thanks and praise
Let's continue the focus of NAIDOC week and join with our first peoples to recognise and appreciate how God, through Country has and continues to heal us all spiritually, physically, emotionally, socially and culturally. Let's promote stronger measures to recognise, protect, and maintain all aspects of Aboriginal and Torres Strait Islander culture and heritage.
And let's all take time to kick off our shoes either literally or metaphorically, to truly enter God's holy places whether that be on the land or in this sacred space. Let's lift up our heads and stand before our King of Glory who surely is amongst us now. Amen.
A Parish Report by Julie Brownell (parts of a story told in the Parish News of All Souls St Peter's, Stepney, South Australia)
Who are the early birds?
Daily departure times started from 2.30 am, in perishing cold …
Our three were joined by other hikers from SA and interstate, making 14 participants in all. We were guided and looked after by the ever-entertaining Sylva, the serenely accomplished cook, bush mechanic and driver, Vish, and the ever-patient, encouraging and multi-talented Clova. Hopefully vocal crows kept the campsite itself under watchful surveillance.
Keeping the home fire burning was an ongoing occupation to ensure a centre of warmth as the sun disappeared, the mass of stars gradually revealed themselves overhead and cold descended.
…. A number of unscheduled baptisms occurred, not all of them by fire. Fortunately, total immersions were avoided, although partial immersion in bath water would have been warmly welcomed.
A daily focus on some prayer and scripture reading secured a sense of group purpose, along with a special Eucharist to celebrate the coming of the Light in the Torres Strait: The arrival of missionaries with the Gospel.
Given a longer time together, I am confident that even more talents would have emerged among the participants. As it was, everyone much appreciated those talents that became evident. The opportunity to gaze in wonder at the awesome majesty of the landscape was also much appreciated.
And a Larapinta hymn by Rev'd Chris Garland (Tune – Slane)
Sun-speckled ridges, green, orange, and black,
Snake through the bushland that stretches "outback".

Their shapes bring wonder and stories then spawn

Of kinship from dreaming in life's early dawn.
Learning from story how they may live well,

Arrernte people in tune with land dwell.

Here in the centre of vast-stretching land.

May all who will come here in harmony stand.
Word of Creator in each creature heard,

Each word's united in God's loving Word.
To all that is broken, rejected, and lost,

Christ came to bring healing and carry the cost.
We walkers who came here had much in "back-pack"

For justice and peace, we would follow the track,

Scrambling up paths that are rocky and steep,

Supported and guided, the right way we keep.
Vistas through valleys, horizons from hills

Each way the path turns brought fresh joys and thrills.

Sharing the challenge, together we knew

How we by walking in fellowship grew.
Scenes that we witnessed now linger in thought,

Blessings and questions together they brought.

How for this wide land should we better care

and how can all people its riches best share?
Walkers embrace the adventure of a lifetime: An update at the start of ABM Larapinta Trek #2

On Monday 28 June, a second team of walkers assembled in Alice Springs for their briefing and a Welcome to Country given by a group of Arrernte Elders who explained the history and significance of the area to the team. In this way their commitment to being peer-to-peer fundraisers began its climax, as it did exactly a week earlier for ABM's first team of walkers.

Each of the walkers had done two significant things. They trained for their time on the Larapinta Trail, gradually increasing their fitness by walking longer and longer distances in their hometowns and cities. They had also gone out and asked family and friends, colleagues, and fellow parishioners to donate to their fundraising target. Together they have raised over $100,000 – a wonderful result, and testament to their determination to help others, both here in Australia and overseas.

As this second group of walkers trek this week for a good cause, they will see, as the earlier team did, plenty of orange soil, punctuated by mulga trees and clumps of spinifex. They'll see magnificent red gums standing beside sandy riverbeds. There will be plenty of almost blood-red rocks to observe close-up, and bluish hills far off in the distance. At night they'll also be able to gaze directly and deeply into the Milky Way, urban light pollution being far from them.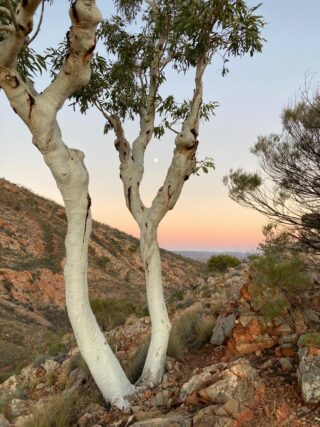 It would be hard to nominate the highlight of their adventure, but certainly a highlight occurs on day five of the trek when the walkers scale Mount Sonder, called Rwetyepme, the Pregnant Lady, in the local Aboriginal language. Though Mount Sonder isn't the highest peak in the Northern Territory (that's Mount Zeil, Urlatherrke, which is far harder for ordinary walkers to climb), the views from there are spectacular.

One of the walkers from the first team talked to ABM and told us how awe-inspiring she had found the landscape to be throughout the trek. Certainly, it moved her to think about the beauty with which the Creator had made the world. The first team of walkers decided that they would ask one of the priests on the trek to celebrate a Eucharist for them once they had come back down from Mount Sonder. So, gathered around the fire back at their campsite, they gave thanks for the opportunity to do the walk, and for the hundreds of generous donors from their communities who had been supporting them all the way. They also prayed for the communities in this country and around the world who will benefit from the funds that have been raised.

ABM would like to thank all those on both walking teams and the open-handed and open-hearted donors who have made this endeavour such a success. That either team has been able to embark on their adventure during COVID-19 is almost remarkable but we haven't emerged totally unscathed by border closures: two participants from group one and another from group two have been unable to go on their walks because of them. But we hope they will all be able to go together in August.
These two Larapinta walkers – Andrew and the Rev'd Wendy Morecroft – are turning their love of hiking and a long-held goal of doing the Larapinta Trek into reality. And at the same time learning more about ABM as they raise funds for the ABM projects.
Wendy writes:
We are "Team Morecroft" comprising my husband Andrew Morecroft and me. I (Wendy Morecroft) am facing the harsh reality of turning 60 in a few short weeks. It's definitely one reason for choosing to do the Larapinta Trek. "I better do it while I still can" has definitely been in the forefront of my mind.
Andrew and I love hiking. We live in Crafers West, right across the road from the Belair National Park (near Adelaide) where we walk our Miniature Schnauzer, George three or four times a week.
We often hike when we are off in our caravan. We've hiked the top half of Edeowie Gorge, camping overnight in The Pound. We've hiked from Cape Jervis to Deep Creek Conservation Park and other parts of the Heysen Trail. We love the Mt Remarkable National Park. We've done St Mary's Peak and other peaks in Wilpena Pound. The Grampians are another favourite spot but the most challenging was 5 nights in the Cradle Mountain National Park in 2004.
We have two children and three grandchildren. Andrew has worked for over 20 years as Corporate Counsel to SA Water and I, in recent years, have become an Anglican Priest after a long career in sales. I am currently working as School Chaplain at St John's Grammar School in Belair, as well as being Assistant to the Locum in the Parish of Coromandel Valley, one day a week.
We caught our first glimpses of the Larapinta Trek in a helicopter out of Glen Helen Station in 2007. Hiking it has been a goal of ours ever since. The idea that we could do this trek, with local guides, AND raise funds and awareness for the many projects undertaken by the Anglican Board of Mission seemed like a match made in heaven.
Our fundraising is underway, mostly with donations through Facebook promotions. And we most recently raised $620 at our film night at the Capri to see "June Again". It was lovely to have old friends and friends from Holy Innocents in Belair, St Peter's Cathedral (Adelaide), The Parish of Coromandel Valley and St John's Grammar School, supporting the event.
Another personal advantage to the trek has been becoming more familiar with the work of ABM and other Anglicans. If the actual trek is as much fun as the training has been, and if we raise awareness and funds for ABM, it will have all been worthwhile.
31 May 2021
---
Team Hunters Hill
This month, as the first Larapinta Trek is almost here, three trekkers from the Anglican Parish of Hunters Hill tell us their story.
David Morgan, Mary Hinde and Rev'd Michael Armstrong of the Anglican Parish of Hunters Hill will be among those on the first group to walk the Larapinta Trek to support the work of ABM. To date they have raised over $11,000 for ABM.

"Our Parish had agreed to support the work of ABM as part of our overseas missional giving this year, and when the invite came for this trek I thought it ticked many boxes for myself personally – an opportunity to raise funds for ABM, an opportunity for a walk and to take some time in the desert and go to one of my 'bucket list' places, and some sacred space to walk and hear the stories of our First Nations peoples", said Rev'd Michael Armstrong, a supporter of ABM for most of his life.
"I have been blessed to see first-hand the work of ABM, and I know that this changes the lives of people not just for the short-term, but for the long term. I think the trek will be an opportunity to not only raise funds, but to raise wider awareness, and personally for me to pray and reflect upon this work in such a sacred place".

Mary Hinde says that they had planned to take a walk overseas, and then COVID struck. "We had given up on the idea. However, then Rev'd Michael mentioned this trek that he was wishing to take, and we jumped at the opportunity". Both she and David Morgan were particularly impressed to hear of the work of ABM, and desired to do something that not only showed their financial support for this work, but their deep commitment to it.

All three say they are truly looking forward to the trip, but as Rev'd Michael admits, "It will perhaps be not entirely what we expected, especially when we heard there are no showers – we should have read the fine print!!!.
However, in the spirit of adventure, we are looking forward to sleeping under the stars, and to meeting some incredible people, and walking this sacred land".

The three have had several fundraisers in the Parish, and privately, but say they have been most overwhelmed by people who have just donated, without the need to receive anything – just because they heard of the need, and gave.
"Already we are feeling blessed", said David Morgan.
---

Simolyn Delgado and Ailen Wickham
This month we're focussing on two sisters planning to walk the Larapinta Trail. Simolyn Delgado and her sister, Ailen Wickham. The sisters come from the Philippines, where ABM has two projects that will benefit from their fundraising.
Read more about Simolyn and Ailen and why they're doing the walk here: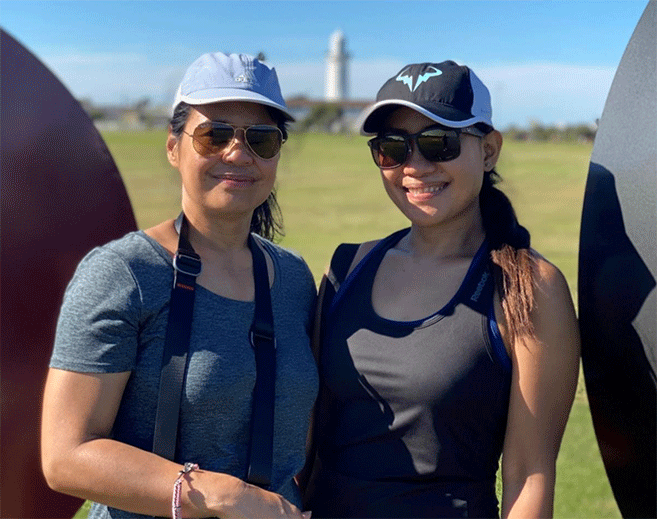 Simolyn and Ailen, two sisters planning to walk the Larapinta Trail to raise much-needed funds for ABM's projects

Simolyn says:
As we all know, 2020 was a challenging year. We heard several stories about people struggling worldwide in different ways, which left my sister Ailen and me feeling sad, overwhelmed, and confused. We felt an instinctive desire to help but were not sure where to begin. We started by doing little acts of kindness. When we learned about the Larapinta Challenge, we stepped up as we thought it was an excellent opportunity to worry less about ourselves in the midst of whatever challenges we face and think more about others, especially the poor, the lost and the lonely.
Humanity remains an important message in our world today. Where there is no God, there is no humanity either. We are doing this because, as the Letter of James says (2.26), faith without works is dead. As the world deals with COVID-19, we must not lose our focus on people who are experiencing financial challenges, loneliness, and isolation. We are expressing our faith in action by helping raise funds to support ABM's projects.
Living in Australia, we realised how blessed we are and that we have the "superpower" to do something good for others. It is up to us whether we will use this superpower or not. We decided to give it a go which is why we have signed up for the Larapinta Trek. We have been training to keep ourselves fit. My sister Ailen has been consistently doing high-intensity interval training at night. I have been running, walking, and hiking and last Saturday, 20th February 2021, my husband and I went with a group and completed a 37 km walk from Circular Quay to Parramatta, which took us 8 hours and 43 minutes, where one-third of the walk was along local roads and two-thirds through parks and river walk. It was not easy, but my unwavering commitment to this great cause helped me stay focused and motivated.
We want to say thank you to everyone who has donated to our fundraising – or any other Larapinta walker – we want you to know that we appreciate it very much. Thank you for helping us raise much-needed funds to support ABM's projects overseas, including the Philippines, where we came from, and Aboriginal and Torres Strait Islander communities to lift themselves out of poverty and injustice.
Ailen says:
Doing the Larapinta Trail will not only realise one of my bucket-list items – to trek one of the most beautiful landscapes in Australia, in the heart of the Australian outback – in Alice Springs! I will also learn more about the Dreamtime of Western Arrernte Aboriginal people and about their sacred sites, which I am very interested to know more.
I am also here to support my youngest sister, Simolyn. She has been talking about this fundraising initiative for a while before we signed up. She was very keen. She needed a partner and who else can better team up with her but of course, me! Doing this trail gets me to spend quality time with her, a one-on-one sister time, which I am looking forward to.
And above all, I am doing this to help raise funds, with all proceeds going to our brothers and sisters doing it tough here in Australia and overseas including the Philippines where my sister and I came from. I believe, no matter how small or insignificant we think the impact of the help that we give, it does not really matter because you see, if everyone helps in their own little way, when combined, it will make a lot of difference!
Do not hold back, give as much or as little as you can! It makes a lot of difference either way! Thank you!
Simolyn (left) and Ailen enjoy spending "sister time" together
---
Sarah Gowty and Tim Gowty
Sister and brother team, Sarah and Tim Gowty are this month's featured Larapinta Trail walkers. It's exciting to hear that Sarah and Tim are walking together in memory of their late father, David Gowty, a former ABM Board member and international development expert.
Read more about Sarah and Tim and why they're doing the walk here: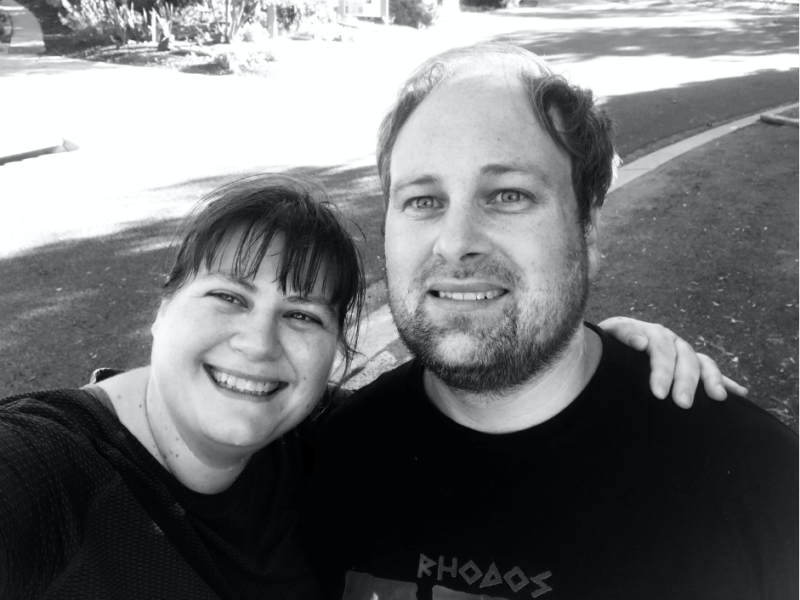 Sarah Gowty, and her brother, Tim, plan to walk the Larapinta Trail for ABM.
"We are both excited and daunted by the challenge ahead.
"Trekking the Larapinta Trail is one of those bucket-list things we didn't think we'd be doing so soon but when the opportunity to walk part of the trail to raise money for ABM came along, we jumped at the chance. To spend a week together will be a wonderful treat too – it has been a long time since we've had such quality sibling time. Six days and 64km is a decent amount of quality time! While Tim is on his feet all day as a theatre nurse and father to two energetic children, we are enjoying spending more time together outdoors testing out our legs as our training ramps up in preparation for June.
"We see this as an incredible opportunity to challenge ourselves physically; to take time out from the busyness of daily life to connect with this ancient land; for mental and spiritual renewal as we walk with like-minded people and learn from the traditional owners of the country we are walking; and to raise valuable funds for ABM's work with overseas and Aboriginal and Torres Strait Islander communities.
"ABM has been part of our family life for as long as we can remember. Our late father David started his career in international development as a volunteer teacher in Borneo through ABM, an experience that would shape the rest of his life. And ours.
"Growing up we followed Dad around the world and were aware at a young age not only of the injustice and poverty that exists in the world but also of the incredible impact basic things like access to clean water, an opportunity to go to school or financial literacy can have in breaking the poverty cycle.
"In retirement Dad continued to contribute to ABM where he could, including selling honey harvested from hives in his local parish of St Andrew's Indooroopilly and the Diocese of Brisbane's Synod under the 'A-Bee-M' logo. When in 2013 he lost his short battle with cancer, Dad was an active member on the ABM Board and had only recently returned from Myanmar where he was working to support ABM's partner, the Anglican Church in Myanmar in ongoing capacity building and partnership development.
"Following in Dad's footsteps Sarah joined the ABM Development Committee in January 2018 and has recently been appointed onto the ABM Board. We really respect the work of ABM in Australia and overseas, especially the approach to working with partners.
"Walking the trail together in memory of Dad will be particularly special."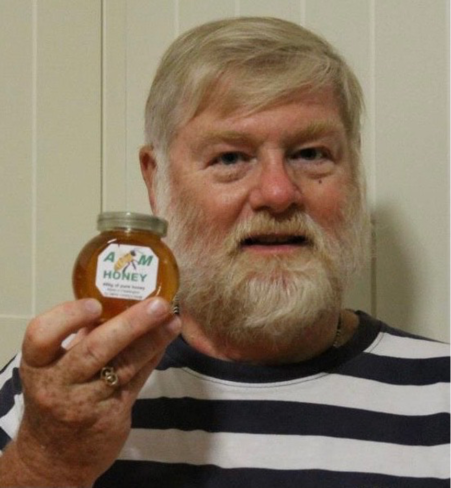 ---
Read about two mother and daughter teams who are excited to be participating in ABM's Larapinta Challenge. Rosemary Gardiner already supports ABM through membership of the ABM Southern Queensland Committee. She is priest-in-charge at Holy Trinity, Woolloongabba. Her mother, Gillian Moses is a school chaplain who has a passion for reconciliation with Australia's First Peoples.
Bev Pepper has supported ABM for many years. She is walking with her daughter, Jen McMahon, with whom she has already travelled in Central Australia. Jen will be particularly ready for the Challenge, as she is a long-distance runner. Both wish to use their fundraising to support ABM's Aboriginal and Torres Strait Islander program.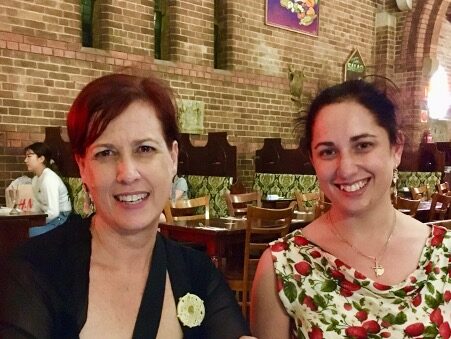 Gillian Moses (L) and her daughter, Rosemary Gardiner are walking the Larapinta
Challenge together for ABM © Rosemary Gardiner. Used with permission.
Rosemary Gardiner
I am the social media office for the ABM Southern Queensland committee. When the committee offered me the opportunity to represent them on this challenge, I was thrilled. This kind of thing is way beyond my comfort zone. In fact, when I sent out an email to friends and family announcing my participation, I felt like I had to reassure them it wasn't spam! But that is one of the reasons I am so eager to participate.
I have not had the opportunity to visit this part of our country before. Everyone I have heard from who has visited speaks about how beautiful and awe-inspiring it is. As an inner-city girl myself, I feel like it will be great experience to spend some time in the wilderness, and not just as a tourist.
One of the things I appreciate most about ABM's involvement with various projects is the priority put on walking with communities and working alongside them. On the Larapinta Trail, I am looking forward to walking with others on the trek and learning about each other. I am looking forward to listening to the stories of those who have a traditional connection with the land. Furthermore, as a representative from the Southern Queensland committee, I am looking forward to being able to bring some stories back to share with others in our community.
I am happy to be sharing the experience with my Mum. Maybe we can even help each other out with training in the meantime!
Gillian Moses
In 2018 I finally made it to Alice Springs and Uluru for the first time in my life. I was blown away by the sheer age of our country, and the relationship our First Peoples have with a land that looks hostile to me, but is life-giving to those who know it well. I believe our red heart has something profound to say to us spiritually, about abundance and living in harmony, and to hear that voice takes time and attention.
I am walking the Larapinta Trail to make time for that voice and to pay attention to it. I am walking because the Larapinta Trail is one of the great walks of Australia and I want to experience it myself. I am walking with my daughter Rosemary, because our stories have many similarities, I love her company, and I think we bring out different aspects of each other. I am walking it because as a school chaplain I think my experience will enrich my work at school, particularly in the area of reconciliation.
And I am walking the Larapinta Trail to support the work of ABM, especially with First Peoples. I appreciate the model of mutuality that ABM brings to its mission work and I am happy to give my time and financial backing to that mission.
---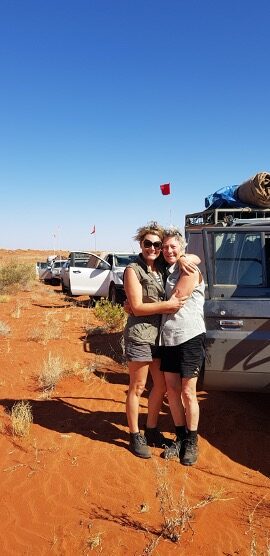 Bev Pepper
I have been a long-term supporter of ABM and am always interested and impressed with the extent of their achievements in supporting communities here in our Australian remote areas.
Having travelled extensively in outback Australia and seen first-hand some of the work that has been done to improve the quality of life for Aboriginal communities as well as areas of the Torres Strait Islands, I am thrilled and honoured to have this opportunity to help raise ever needed funds for ABM's valuable work.
The outback country has always been an attraction for me after my first trip through Alice Springs and beyond when I was still at College, and I have been so fortunate to have made multiple trips since through many areas of rural and remote Australia.
I feel a real connection to the land having farmed in regional Victoria for a long time. As my sons are now carrying on the tradition, I am still closely connected.
The Larapinta trail will be quite a challenge; one I am feeling ready and excited to accept, and am very thrilled to have my daughter walking with me.
I know there are many people in remote areas who walk long distances regularly because they have no choice.
My hope is that the funds raised from this challenge will make a difference in the lives of disadvantaged people both in Australia and overseas.
ABM wishes to thank everyone who has supported Bev's fundraising efforts and, like us, are deeply saddened by Bev's sudden and unexpected death in late February 2021. Bev was anticipating her Larapinta adventure with great excitement and her fundraising efforts mirrored that excitement. Bev lived a life committed to God's love, hope and justice and her efforts will ensure that Aboriginal and Torres Strait Islander communities and our partner communities overseas will have that same opportunity. Bev was walking Larapinta with her daughter Jen McMahon, and ABM is grateful that Bev's daughter-in-law, Karen, will now walk in her place alongside Jen and the other participants. This donation page will be held open for anyone wishing to make a donation in Bev's memory.
Above Picture: Jen McMahon (L) and her mother Bev Pepper will also walk the Larapinta Challenge together. © Bev Pepper.
Used with permission.
Jen McMahon
I feel very fortunate to be travelling in our beautiful Australian outback in 2021 and more importantly helping to raise much needed funds for such a wonderful cause for ABM.
I am thrilled to be experiencing this journey with my Mum as together we have travelled the Australian outback before, and I have witnessed firsthand the hardship communities face on a day to day basis. It will be very rewarding knowing the money raised will help Aboriginal and Torres Strait Islander communities.
Having been a long-distance runner all my life and competing at a State level I know how much the body can be pushed; however, this will be a very new challenge for me and something I am really looking forward to.
---
What happens when two sisters get inspired to raise funds for ABM?
Meagan Schwarz and her sister, Caroline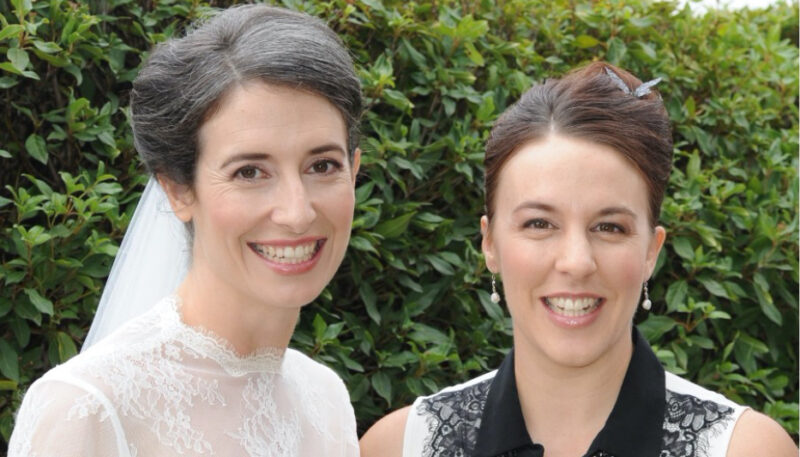 Meagan Schwarz, ABM's Committees Support Officer has not only taken on the Larapinta Challenge for ABM next June, but she has also inspired her sister, Caroline, to do likewise.
Meagan says:
Working for ABM has provided me with so many wonderful opportunities to see first-hand the amazing life changing work that is being done through our partners in Papua New Guinea, the Philippines and Zambia.
Walking 64km of the Larapinta Trail while raising funds to ensure communities continue to benefit from these programs is a great way for me to 'give-back' for the blessings I've received and to share with others the inspiring stories of people who have achieved amazing things and the impacts these projects have on individuals and communities.
I've also heard lots about the Larapinta Track and never thought it would be something for me to do, so being able to be part of a guided group like this was just too good an opportunity to pass up. And then my sister said she wanted to walk too!
As I walk, I'll be thinking of those who have to walk long distances to receive health care, fetch drinking water and attend school, knowing the funds I raise will be helping them achieve their dreams. Having a four-year-old daughter has made me even more aware of the blessings we have in our country, and yet we often take so many of these things for granted.
I hope that during my training and fundraising, I'm able to raise awareness of how our partners are working to build up communities in ways that are sustainable, that focus on a community's strengths to solve their own problems, and give hope and a future to children just like my daughter.
Caroline says:
I saw a post on my sister's Facebook about her 'walking' the Larapinta Trail as a fundraiser for ABM. I initially thought that it was a 'virtual' walk of the Larapinta Trail and that she was just going to be walking the equivalent distance around her home in Adelaide. Reading on a bit more though, I realised that she was going to be trekking the ACTUAL Larapinta Trail in Central Australia!
This immediately piqued my interest as I spent ten weeks volunteering in a remote community west of Alice Springs – Kintore (Walungurru) – back in in 2006. The people and the red earth of Central Australia have held a special place in my heart ever since! The realisation that I could join my sister on this trek (without our kids!!), raise money for ABM and revisit a very special region of Australia made me sign up immediately for more information. After discussing my interest with my hubby and two sons, it was decided that I would join my sister for the Larapinta Trail adventure and here I am, in the midst of fundraising and training to ensure I meet my donation target and be able to survive 5 days of trekking in Central Australia!
There is not a specific project of ABM's that I feel more passionate about that any other, it is simply the manner in which they work in partnership with local communities, aiming to empower those communities to transform their lives, sustainably coming out of poverty, delivering grassroots, community-driven development, along with programs in adult literacy, improved food security, water and sanitation, gender equality and social inclusion. As my body gets used to trekking up to 20 kilometres a day, the muscle aches, sore feet and blisters are worth every cent that I can help fundraise to support ABM deliver these programs around the world.