ABM Archive Website
THIS WEBSITE CONTAINS ARCHIVE MATERIALS FOR HISTORICAL REFERENCE ONLY
For up-to-date information, including our latest appeals, news, and resources, please visit our current website.
New South Australian Provincial Committee Commissioned
A new ABM South Australian Provincial Committee was commissioned at Evensong at St Peter's Cathedral, Adelaide on 21 November, 2021. Those commissioned by the Archbishop of Adelaide, the Most Rev'd Geoff Smith, were the new Chair, the Rev'd Paul Devenport, and members of the Committee: Peter Burke (Adelaide), Alison Dutton (The Murray), Meredith Francis (Willochra), Margaret McEvoy (Adelaide) and the Bishops of the three Dioceses in the Province.
New Committee Chair, Rev'd Paul says: "I hope that I can build on what has been achieved by my predecessors in my time on the committee over the past 11 years, Bishop David McCall, Bishop Chris McLeod and Bishop John Stead… working more closely with parishes in the Diocese of Adelaide in supporting the work of the ABM, having more church speaking engagements, working closer with the eleven Anglican Schools in South Australia…" He also said he was looking forward to working with his fellow committee members.
During Evensong, the Rev'd Lynn Arnold gave an inspiring sermon, highlighting the work of an early "ABM activist", the first Bishop of Melanesia, John Coleridge Patteson (1827-71). The sermon can be downloaded here:
http://www.stpeters-cathedral.org.au/600pm-choral-evensong-christ-the-king-21-november-2021/?fbclid=IwAR3lbFErZGu5WKbbuQH03WiYCsep4J1cuClYsLDV_LBFaBhtZNT-5flcXSw
Following the Commissioning, the Committee were joined by members of the former Adelaide Auxiliary and other ABM supporters from across the Province for a wine and cheese supper in the Cynthia Poulton Hall. Mrs Elaine Edwards said, "It was a lovely evening – so good to be together as an ABM group and to be able to chat". Those present heard how the support of the former Adelaide Auxiliary over more than 100 years has enabled ABM and our partners to achieve great change in the lives of many in Australia and overseas. While the Auxiliary has formally closed, the passion for God's mission has not waned and many of its members continue to champion ABM in their parishes.
ABM congratulates and thanks Paul and the Committee members for their commitment to God's mission through ABM and acknowledges the work of ABM Auxiliaries around Australia: the seeds that they planted will continue to bear fruit for many years to come.
If you wish to watch the service, go here:
https://www.youtube.com/watch?v=EFGDO2PIRn4
Rev'd Lynn's sermon starts at 41 minutes, and the commissioning at 57 minutes.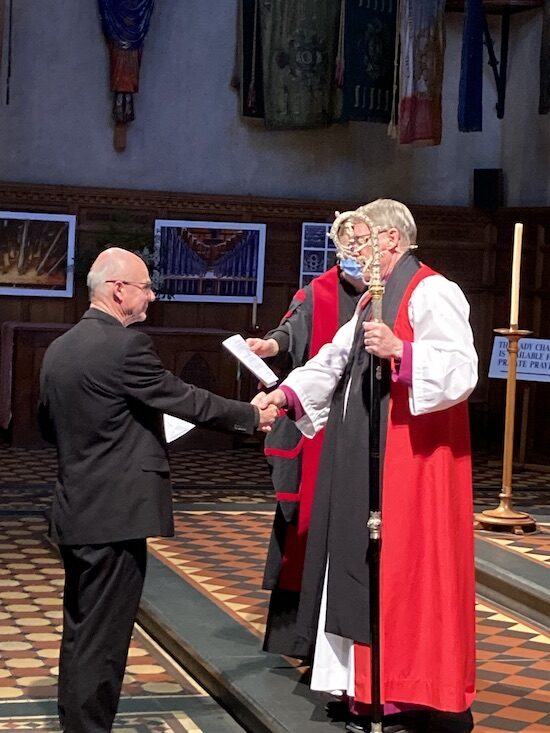 Archbishop Geoff Smith commissions the new South Australian Provincial Committee Chair, the Rev'd Paul Devenport at Evensong in St Peter's Cathedral, Adelaide. © Meagan Schwarz/ABM.