ABM Archive Website
THIS WEBSITE CONTAINS ARCHIVE MATERIALS FOR HISTORICAL REFERENCE ONLY
For up-to-date information, including our latest appeals, news, and resources, please visit our current website.
SUPPORTER STORY: ANZAC Biscuits with a twist — at Holy Trinity, Launceston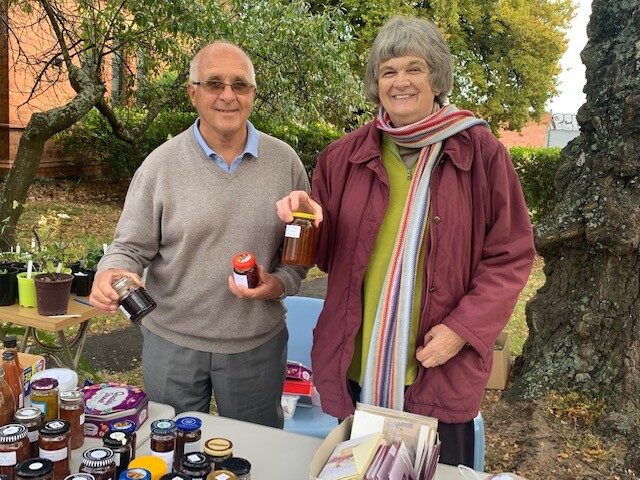 Dennis and fellow parishioner at Holy Trinity, Launceston's 2021 ANZAC Day fundraiser for ABM.
© Holy Trinity, Launceston. Used with permission.
Dennis Mann from Holy Trinity, Launceston has sent this wonderful story of creative fundraising.
"With summer at an end and very little produce to sell at our Garden Stalls I decided on an ABM fundraiser that would also celebrate Anzac Day and encourage people to visit our church. So I asked a dozen parishioners to each bake a batch or two of Anzac biscuits which I then packaged in special commemorative boxes. Amazingly the biscuits followed the same recipe but appeared in wonderfully different sizes, shapes and texture. We even had a gluten free alternative! But they all tasted great."
"I chose six of the 165 servicemen on our local War Memorial and wrote a short biography for each of them, accompanied by photographs accessed from the Australian War Memorial archive. Jack Bradley was only 18 and one of the first to fall at Gallipoli on 25 April 25, 1915. Charles Littler, known as the Duke of Anzac, organised the retreat from Gallipoli but died in action at Moquet Farm, France in 1916. Eric Browne fought in both world wars and lived in New South Wales until his death in 1962. Douglas Goss was wounded at Gallipoli and was invalided back to Australia in 1916. He died in Launceston in 1975. Edmund King was also at Gallipoli. He later trained as an officer before being killed in action at Pradelles, France. Sydney Rouse did not reach the Front until April 1918, but was killed in action three weeks later.
"Our usual stall is situated in front of Holy Trinity on the way to Launceston's Saturday market, so we have a constant stream of people passing by. Our commemorative boxes of biscuits obviously hit a nerve because we soon sold out of our stock of 140 boxes, as well as our usual jams, pickles, nuts and lemons. The Church was open, and quite a few of our customers later visited the church to see our splendid War Memorial and its roll of 165 servicemen."
"We raised over $1,000 for our ABM account. The event was so successful that I am tempted to revive the project next year."
ABM congratulates Dennis and his hard-working team for this brilliant and creative effort!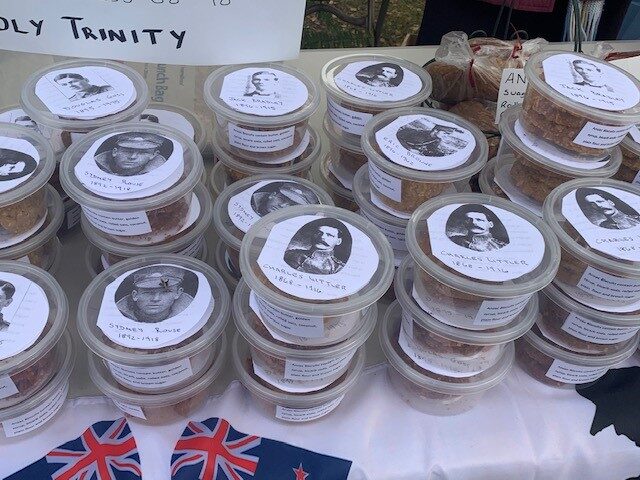 140 boxes of ANZAC biscuits were soon sold out. © Holy Trinity, Launceston. Used with permission.