ABM Archive Website
THIS WEBSITE CONTAINS ARCHIVE MATERIALS FOR HISTORICAL REFERENCE ONLY
For up-to-date information, including our latest appeals, news, and resources, please visit our current website.
The Anglican Alliance: highlights in 2015
January 21, 2016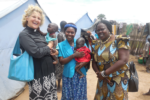 The Anglican Alliance was created to connect and strengthen the development, relief and advocacy activities of Anglican churches, agencies and networks. The following article from www.anglicanalliance.org looks at the highlights in 2015 for the Anglican Alliance and what lies ahead this year:
Unique, connecting, 'bottom-up' – Alliance highlights in 2015
08 January 2016
Four years on, the Anglican Alliance continues to grow and develop as it supports the Anglican Communion to live out the Gospel in word and action, learning from the wisdom and experience of the Anglican family of churches and agencies.
The intensely busy year of 2015 was no exception.
"We aim to serve as a connector and catalyst – a convening platform to bring the collective resources and skills of the Communion to bear for the common good," underlines the Revd Rachel Carnegie, Anglican Alliance Co-Executive Director.
The team of six regional facilitators, all rooted in their local contexts, and four staff at the secretariat, are supported by the Communion-wide Board of Trustees and Advisory Council, which met again in 2015 to guide the Alliance's strategy.
The Alliance's key aim in its three pillar areas of work – development, relief and advocacy – is simple but powerful.
> Read the full article here: http://www.anglicanalliance.org/news/20521/unique-connecting-bottom-up-alliance-highlights-in-2015
Photo: The Revd Rachel Carnegie, Anglican Alliance Co-Executive Director, visiting a camp for internally displaced people (IDP) in South Sudan. © Episcopal Church of South Sudan & Sudan, 2014.