ABM Archive Website
THIS WEBSITE CONTAINS ARCHIVE MATERIALS FOR HISTORICAL REFERENCE ONLY
For up-to-date information, including our latest appeals, news, and resources, please visit our current website.
The Holy Land – an update from our partner in Gaza
April 16, 2018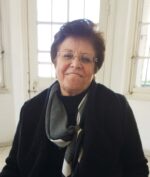 ABM has received emails from the diocesan Programs Development Officer, Sawsan Aranki-Batato, and from Suhaila Tarazi, the Director General of Al-Ahli Arab Hospital in Gaza regarding the current situation in the territory.
Suhaila (pictured) says: Thank you very much for your concerns about the situation in Gaza. Indeed, it is critical and no one can predict how it will end.' She writes that meanwhile the hospital's various activities are going on, and the hospital team are able to continue the work of the Child Nutrition project without interruption to their schedule.
Sawsan gives us some background to what has been happening: '… The situation in Gaza is getting worse indeed. At least 16 Palestinians have been killed and more than 1700 wounded as protesters kicked off a planned six-week demonstration demanding the right of return for refugees. The demonstration intended to be peaceful, and would comprise of families of men, women, and children camping. Cultural events, including traditional dabke dancing, were planned.' She goes on to say that the demonstration was dismissed as a Hamas ploy. As a result, 'at Ahli hospital we received five critically-wounded people and our staff successfully managed to provide the necessary treatment'.
You can read more about the Child Nutrition project in Gaza here.