ABM Archive Website
THIS WEBSITE CONTAINS ARCHIVE MATERIALS FOR HISTORICAL REFERENCE ONLY
For up-to-date information, including our latest appeals, news, and resources, please visit our current website.
The Journey from C20 to G20
November 12, 2014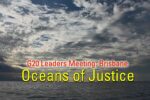 This weekend leaders of the world's 20 largest economies will gather in Brisbane to discuss ways of working together on global cross-border challenges. On the sidelines of the meeting will be voices from countries not represented in the G20, reminding world leaders that global growth should not come at the expense of the world's poorest people.
The Archbishop of Polynesia, Winston Halapua is asking the G20 to consider how they might cooperate to minimise the impacts of climate change which are already being felt by people in the Pacific Islands. He will speak for Anglican communities around the world who have joined together through the Anglican Alliance to call for climate change to be considered on the G20 agenda.
The Anglican Alliance Regional facilitator for the Pacific will also be in Brisbane during the G20 Leaders meeting. Tagolyn Kabekabe works with communities in the Solomon Islands who are experiencing the erosion of their homelands, poisoning of their food gardens by salt water and increasing exposure to extreme weather events.
ABM's Greg Henderson has been organising opportunities for people in Brisbane to meet Archbishop Winston and Tagolyn Kabekabe. He says that it is important for Australians to recognise that climate change is a justice issue, because its impact is being felt most seriously by communities who have the least power to address the causes of anthropogenic warming.
Archbishop Winston Halapua and Tagolyn Kabekabe will speak at a community forum and a climate change workshop in Brisbane this weekend. There will also be a prayer vigil and special Oceans of Justice service where Archbishop Winston will preach. For details of all of these events go to http://www.abmission.org/events_calendar.php/25/g20-public-abm-events
A list of Anglican events taking place in Brisbane this weekend (13/11/14 – 16/11/14) can be found at http://www.abmission.org/events_calendar.php/25/g20-public-abm-events
For the President of ABM's press release on the eve of the G20 Leaders' meeting please go to http://www.abmission.org/news.php/206/abm-president-g20-press-release