ABM Archive Website
THIS WEBSITE CONTAINS ARCHIVE MATERIALS FOR HISTORICAL REFERENCE ONLY
For up-to-date information, including our latest appeals, news, and resources, please visit our current website.
The Real Easter Egg Campaign-Australia
February 10, 2015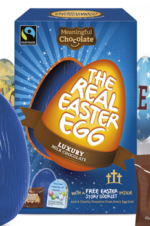 The Meaningful Chocolate Company Ltd has launched a pilot project called The Real Easter Egg Campaign-Australia. This pilot project involves churches and schools in Adelaide and Melbourne, with the hope of bringing the campaign to Australia. The Real Easter Egg Campaign started in the UK in 2010 and tells the story of Easter.
What is The Real Easter Egg Campaign – Australia?
The Real Easter Campaign aims to establish giving a Real Easter Egg as a tradition. More than 270 million chocolate Easter eggs are exchanged every year in Australia. The Real Easter Egg, which is coming to Australia in 2015, will be the only one which is made of Fairtrade chocolate, has an Easter story booklet in the box and makes a donation to the development charity Traidcraft Exchange.
About the Real Easter Egg

The Real Easter Egg is 150g, includes an Easter storybook/Happy Easter Banner, a high quality Fairtrade milk chocolate egg (125g) and a pack of Fairtrade milk chocolate Chunky Buttons (25g).


How to get involved
This year is a pilot year and so orders can only be made by churches and schools for delivery to the cities of Adelaide and Melbourne. (If your church is outside these cities you can still register at http://www.therealeasteregg.com/australia/ and the Meaningful Chocolate Company can send you more information as the campaign develops.)
How to buy (free delivery offer if you buy early)
The Real Easter Egg is not in the shops so churches, schools and other groups will have to place a mail order. There is a very limited number of eggs available so register and order them as soon as possible.
You can order and pay via an online Australian retailer linked to the campaign website at http://www.therealeasteregg.com/australia/. They will take card payments, provide customer support and make sure you get your eggs delivered in temperature controlled conditions. If you order 24 eggs (4 cases) then there is free delivery to a single drop-off address. The Real Easter Egg costs $12 and comes in cases of 6.
The best way to collect orders is to ask friends and family to add their names to a sign up list in church saying how many Real Easter Eggs they would like. Or you could place an order now and sell them in church from February.
Don't forget, there are free posters and sign-up lists on the website (http://www.therealeasteregg.com/australia/).
Download an information sheet here.
Please note: all enquiries and orders need to be made directly with the Meaningful Chocolate Company, not through ABM.
How it all began
In 2010 someone got me an Easter egg. On the side of the box it said: "Easter is the festival of chocolate and loveliness". The line made me laugh. I thought to myself, 'There is a bit more to Easter than that.' I remember sketching what a meaningful Easter egg might look like. It would be Fairtrade, tell the Easter story and make real the Easter themes of hope and new life by supporting charitable projects. It would be called The Real Easter Egg -just to make the point that all the rest were mostly in it for the money. So we launched The Real Easter Egg in 2010 and out of the 80 million eggs sold in the UK that year The Real Easter Egg was the only one with a copy of the Easter story in the box, which was Fairtrade and donated to charity. Four years on, The Real Easter Egg is still the only one to do this. By Easter 2015 more than a million Real Easter Eggs will have been bought by churches in the UK – that's a million times that the Easter story has been shared. More than €256,000 has already been donated to charity.
David Marshall
Director of the Meaningful Chocolate Company Ltd