ABM Archive Website
THIS WEBSITE CONTAINS ARCHIVE MATERIALS FOR HISTORICAL REFERENCE ONLY
For up-to-date information, including our latest appeals, news, and resources, please visit our current website.
Typhoon Hagupit: Update from the Episcopal Church in the Philippines
December 10, 2014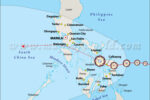 ABM received an update last night from Floyd Lalwet, Provincial Secretary and National Development Officer of the Episcopal Church in the Philippines (ECP) about communities affected by Typhoon Hagupit.
TO ALL PARTNERS AND FELLOW WORKERS IN CHRIST!
May we please acknowledge and express our gratitude to all of you for your loving thoughts and prayers for our people as Typhoon Hagupit (Ruby), initially assessed as another super-typhoon but which actually weakened as a tropical storm, hit our country these past three days.
Thankfully, there has been no human casualty in any of our partner communities and the damages on houses and property in all the areas hit by the storm were not as extensive as initially projected.
In our partner farming villages, most farmers have already completed the harvests so only the few remaining un-harvested rice crops were wiped out. Some houses were destroyed in these communities and community repair works are now on-going, especially in Barayong.
Electric power in the villages of Palacio, Cabungaan and Barayong (all in Dagami) have been cut off and so our ground staff installed solar lighting using the solar systems that were scheduled to be permanently installed in Natas-an, Bantayan Island next week. Natas-an will have to wait for a little while for power get to back to these three villages.
Our coastal partners in Naungan, Ormoc City are doing okay. Likewise, not so much damage were experienced in Sabang Bao (where our housing project is on-going) and Bayog, both also in Ormoc City.
The strong winds and rains expected in Manila last night and feared flooding and landslides, again thankfully, did not come or happen.
Both our prayers, preparations and your support now allow us to breathe a positive sigh of relief! Our first trip of relief goods from our communities arrived in Leyte this morning. Tomorrow, another truck is proceeding there. Our one time operation of relief items, consisting of products from our partner communities in the north, will be provided to our communities as they do the community clean up and repair works.
Peace,
Floyd