ABM Archive Website
THIS WEBSITE CONTAINS ARCHIVE MATERIALS FOR HISTORICAL REFERENCE ONLY
For up-to-date information, including our latest appeals, news, and resources, please visit our current website.
Update for Al-Ahli Hospital in Gaza
May 18, 2018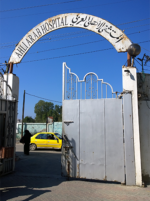 ABM supporters will be aware of the current situation in the Holy Land. Many of our supporters have given previously to support the work of the Episcopal Diocese of Jerusalem's healthcare institution, the Al-Ahli Hospital, which is based in Gaza, and which treats patients irrespective of race or creed. ABM is immediately sending AUD $ 10,000 to assist with hospital services. We share this letter from Hanna W. Theodorie, the Programs Director of the Diocese of Jerusalem, and ask you to give generously to the ongoing appeal:
Dear Friends and Supporters of the Episcopal Diocese of Jerusalem,
When you or a family member is ill or injured, where do you turn? If you're like most in our community in Gaza Strip, then you go to Arab Ahli Hospital because you know you will receive absolute top-notch medical care and that you'll be treated like a real person, by dedicated, compassionate health professionals in a warm, caring environment.
The Arab Ahli Hospital nowadays is really in need of your support and generous contribution to keep it one of the leading health care providers that it is in Gaza Strip. We are so grateful to you for helping to create and support our committed team of caregivers.
With the horrendous violence in Gaza continuing, the situation is critical at Al Ahli Hospital. The death toll in Gaza continues to rise. Fifty-eight Gazans were killed last Monday and more than 2,700 were injured, 1,360 from live ammunition. The level of bloodshed since protests began at the end of March has not been seen in Gaza since the 2014 war with Israel.
Mrs. Suhaila Tarazi, the Director of Ahli Arab Hospital in Gaza, reports that Ahli is implementing an emergency response to receive trauma cases and has configured an emergency wing with 24 additional beds. The staff is on extended shifts to treat the injured and wounded. Ahli surgeons are treating serious wounds and complex limb injuries.
Ahli Hospital needs immediate and substantial financial support to respond to the catastrophe in Gaza. They need to obtain emergency medicine and medical supplies and fuel for generators. They need to support doctors and nurses who are working non-stop to meet the crushing flow of the injured and traumatized. Please give generously to sustain Ahli in this time of crisis.
Suhaila wants you to know that while the resources of Ahli Hospital are stretched to the limit, the hospital staff is working around the clock, treating and healing victims of the violence. This includes many children who have family members, friends and neighbours who are dead or injured. These children are suffering, and Ahli Hospital is providing them compassionate counselling and psycho-social therapy.
During these days of violence in Gaza, the deadliest since the 2014 war, we ask your prayers for Ahli Hospital. We ask for your gifts to support their heroic work and honour their bravery. Please help us send a strong message to Suhaila and her team that their brothers and sisters around the World stand with them as they serve the suffering people of Gaza.
Today, families in Gaza prepare to bury their dead. Tens of thousands of Palestinians in Gaza attend memorial services and funerals. Thanks to your faithful support, the doors of Ahli Hospital remain open. With your help, Ahli stands as a powerful witness in this place of desperation and unimaginable horror. Thanks to you, Ahli Hospital sends a message of hope and love. Please give today to our beloved Ahli Hospital.
Your donation is helping to make our community healthier. Right here, Right now.
Thank you so much for your generosity in helping our diocesan hospital to respond meaningfully to the crisis in Gaza.
Sincerely,
Hanna W. Theodorie (Mr)
Programs Development Director
Episcopal Church in Jerusalem & the Middle East
Diocese of Jerusalem