ABM Archive Website
THIS WEBSITE CONTAINS ARCHIVE MATERIALS FOR HISTORICAL REFERENCE ONLY
For up-to-date information, including our latest appeals, news, and resources, please visit our current website.
Update on Episcopal Church in the Philippines' response for typhoon victims
January 29, 2014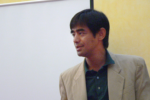 ABM was in phone discussions last night with Floyd Lalwet (pictured) from our Philippines partner, the Episcopal Church in the Philippines (ECP), via the Anglican Alliance, about the next phase of their response to the devastation brought about by Typhoon Yolanda (Haiyan).
ECP plans to use remaining funds collected by ABM from its generous donors, (and other Anglican partners), to assist communities (around 4,000 households) in more remote parts of the typhoon-affected areas in a long-term and sustainable recovery.
In this phase, people will be assisted to re-build their houses and farmlands, develop new or improved sources of livelihoods where needed and install new solar lighting systems to replace those destroyed in the typhoon. While these communities are re-building their lives, the church will continue to provide emergency food, all sourced locally from community projects not affected by the typhoon, to ensure the local economies are strengthened.
Another facet of the longer term recovery is that the church will partner with selected social enterprise organisations to help them rebuild typhoon-damaged infrastructure and equipment and get them back on their feet so they can resume their work of helping the economically marginalised local communities to access economic opportunities.
ABM's donors can be confident that their funds are continuing to be used to meet the needs of communities badly affected by the typhoon, and will make a lasting difference as people are assisted to rebuild their lives and have a more secure future.