ABM Archive Website
THIS WEBSITE CONTAINS ARCHIVE MATERIALS FOR HISTORICAL REFERENCE ONLY
For up-to-date information, including our latest appeals, news, and resources, please visit our current website.
Vale Bishop Bob Butterss, Former ABM Chair
July 5, 2017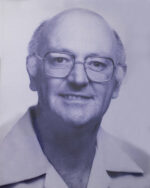 One of ABM's former Chairmen, the Rt Rev Robert (Bob) Butterss, died overnight. He was deaconed in 1956 in Melbourne and priested in that diocese the following year. After serving in Brighton and then Lara in that diocese, he ventured north and was a mission priest in the Diocese of New Guinea, based at Popondetta, for five years. Returning to parish ministry in Pascoe Vale in 1964, he was then appointed to the position of Victorian Secretary of ABM in 1966. He returned to parish ministry in 1970, becoming the Vicar of St Stephen's, Mt Waverley. In 1976 he became the Chair of ABM, a position he held until 1983 when he became Dean of Brisbane. He was consecrated in 1985 as a regional bishop in the Diocese of Melbourne. During his retirement in the Diocese of Newcastle, he celebrated the Eucharist regularly with the Society of St Francis at the hermitage in Stroud.
During his time as Chair of ABM the Church in Australia began to embrace partnership. One of his first overseas trips for ABM was to attend a conference in the USA which was focussed on Partners-in-Mission.
Bringing together large numbers of independent dioceses to create a Communion-wide partnership scheme was difficult. Consultations were arranged to help each national church to set its priorities and assess how much assistance it needed from outside sources. Such consultations happened regularly around the world in the 1970s and 1980s.
Australia hosted one such consultation in 1978. Eight partners came to assist the Anglican Church of Australia to discuss what mission meant for the contemporary church. Bishop Butterss reported –
To me, one of the most important features was that the partners from Japan, Africa, the Pacific and Asia – regions we have supported for many years – were present in an entirely new status. They were not here to raise funds for their respective churches, they were not here to be taught how to do their job. They were here because we needed them and because we recognize that there is one mission and we are all partners in it. (Church Scene, 18 May 1978, p.14)
Bishop Bob's funeral will be held on Friday 14 July, 2017, at St John's Church Taree at 2.00pm. Following the service, he will be privately cremated with his ashes to go to SSF at Stroud, NSW, to be with his wife Margaret.
May he rest in peace and rise in glory with Christ.