ABM Archive Website
THIS WEBSITE CONTAINS ARCHIVE MATERIALS FOR HISTORICAL REFERENCE ONLY
For up-to-date information, including our latest appeals, news, and resources, please visit our current website.
Vale Bishop James Ligo
December 27, 2017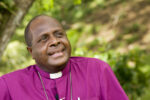 ABM is much saddened by the news that Bishop James Ligo, head of the Anglican Diocese of Vanuatu and New Caledonia, died suddenly of a stroke on Friday 22nd December, 2017 in Luganville, Santo, while on a tour of Penama Province.
His funeral service was conducted by the Rt Rev Michael Tavoa at Tagabe Parish in the capital Port Vila on Tuesday 26 December 2017, with the Prime Minister, his Cabinet and members of the diplomatic corps present to pay their last respects. His body was laid to rest at the Melanesian Brotherhood Household at Teouma Valley on Efate.
Please remember the Diocese of Vanuatu and New Caledonia in your prayers along with Bishop James' widow, Patricia and their family.
May he rest in peace, and rise with Christ in glory.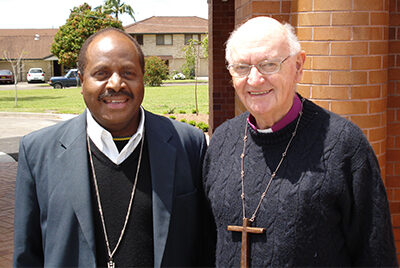 From left, Bishop James Ligo with former ABM Chair, the late Bishop
Bob Butterss during his visit to Australia in 2008. © ABM.