ABM Archive Website
THIS WEBSITE CONTAINS ARCHIVE MATERIALS FOR HISTORICAL REFERENCE ONLY
For up-to-date information, including our latest appeals, news, and resources, please visit our current website.
Vale Bishop Ken Mason
December 21, 2018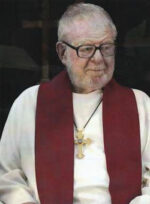 It is with much sadness that we at ABM share the news of Bishop Ken Mason's passing, late on the evening of Thursday 20 December, after a long period of ill health.
Bishop Ken Mason was the Chairman of the-then Australian Board of Missions for ten years, from 1983 until his retirement in 1993. He was the first diocesan bishop of the Northern Territory and in March this year, celebrated the 50th anniversary since his consecration as a bishop as well as the diocese's golden jubilee.
He led a very active ministry and contributed significantly to many aspects of church life. ABM has much to thank Bishop Ken for, in instilling the importance of relationships, mutual partnerships and respect within the vision of the organisation.
ABM published a tribute to Bishop Ken's life called 'Celebrating Ken Mason – Fifty Years a Bishop' which details and celebrates his milestones – you may download a .PDF copy here.
The funeral service for Bishop Ken will be held on Wednesday 9 January, 2019, at 2.30pm at St James' Church, King Street, Sydney.
May he rest in peace and rise in glory with Christ.