ABM Archive Website
THIS WEBSITE CONTAINS ARCHIVE MATERIALS FOR HISTORICAL REFERENCE ONLY
For up-to-date information, including our latest appeals, news, and resources, please visit our current website.
Vale Cecil Wilson
May 30, 2015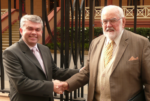 It is with much sadness that ABM announces the death of Cecil (Cec) Wilson.
Cec was an ABM supporter for most of his life. He was a regular visitor to the ABM office in Stanmore, especially after he met the young Denise who had returned from missionary service in Melanesia. Cec also worked with the ABM Sydney Committee to increase ABM's profile in parishes across the Diocese of Sydney.
After he and Denise married and their three daughters were growing up, Cec took early retirement and offered for missionary service, accepting the appointment as Provincial Secretary for the Anglican Church of Papua New Guinea. He and Denise, Adele, Kaari and Danielle moved to Lae in 1985 and returned to Australia in 1991 for the girls to continue their high school education back in Sydney.
Not long after their return Denise was appointed as Bookkeeper for ABM in the National Office in Sydney. Cec was always available for anything which ABM's Sydney staff needed doing.
He was a committed supporter of the ministry which ABM and the ACPNG embraced.
Cec was admitted to hospital on Wednesday and died just before 3pm yesterday, Friday 29th May. The staff of ABM learnt of his death during a special prayer service that was being held for Cec.
Cec's funeral will be held on Thursday, 4 June at 10.00am at St John's Anglican Church, 2 Carrington St, Penshurst NSW 2222
With Denise and Adele, Kaari and Danielle, and their families we mourn his death and give thanks to God for his long life and friendship.