ABM Archive Website
THIS WEBSITE CONTAINS ARCHIVE MATERIALS FOR HISTORICAL REFERENCE ONLY
For up-to-date information, including our latest appeals, news, and resources, please visit our current website.
Vale Gwenda Shannon
May 3, 2018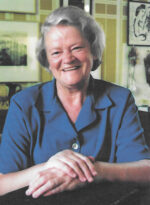 ABM received sad news about one of our loyal supporters, Miss Gwenda Shannon, who passed away on Tuesday 3 April in the Mater hospital, Newcastle. The Rev Bill Howarth, ABM Diocesan Representative from Armidale Diocese, gave us an insight into her life of faithful service and strong connection to ABM:
"Gwenda's association with ABM goes back probably to before she came to Armidale from Brisbane to work as Secretary of the Registrar at the University of New England. Her involvement here was as Secretary of St. Peter's Cathedral ABM Fellowship from its inception in 1975. She represented the Diocese at the then NSW Provincial Committee meetings, as well as at Conference meetings over many years. She was an ardent supporter of ABM right up to her death on Easter Tuesday morning."
"She gave to ABM not only generously of her time but also of her donations. She was the link point between the parish and ABM and will be very much missed."
"She was involved in so many things in the local community and recognized for her work in both Church and Community with the Award of the Order of Australia Medal. Truly a servant of our Lord Jesus Christ."
Gwenda is survived by her two nieces who live in England and came to Australia for her funeral which was held on 26 April in Brisbane, where she wished to be buried with her parents. A Memorial Service of Thanksgiving was also held at St Mary's Anglican Church, West Armidale, on Monday 30 April.
ABM is most grateful and give thanks for Gwenda's contribution and support over so many years. May she rest in peace and rise in glory with Christ.