ABM Archive Website
THIS WEBSITE CONTAINS ARCHIVE MATERIALS FOR HISTORICAL REFERENCE ONLY
For up-to-date information, including our latest appeals, news, and resources, please visit our current website.
Vale Helen Barrett MBE AO
November 27, 2019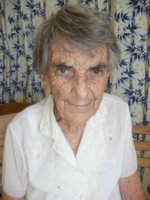 Staff at ABM received the sad news that Helen Barrett MBE AO died on the morning of Monday 25 November, aged 98.
Sister Helen was an Australian Nurse Educator from the missionary days. She served for 36 years in Melanesia, and 8 years in the Torres Strait Islands from the 1940s to the mid 1980s. She had worked as Sister-in- Charge of the Hospital of the Epiphany, Fauabuat, and at the Puauba Health Centre on the Island of Malaita in the Solomon Islands.
Helen's tireless service to mission was formerly acknowledged when she received the ABM Coaldrake Award in the Diocese of Brisbane in November 2017.
Fr Jeremy Gehrmann, rector of St Stephen's Coorparoo, shared the news of her passing:
"I visited Helen at her nursing home Casa D'amore yesterday following Sunday morning services, sat for some time with two of her nieces and said the Service for the Dying (which has appropriate scripture verses, psalms and prayers.) A number of folk from St Stephen's Coorparoo have visited in the last few days.
"I received a call from one from her nieces this morning who was with her when she died, and went straight to be with her.
"Helen has four nieces and two nephews, and 7 grand nieces and nephews."
Please note: The funeral will held on Thursday 5 December at her parish church, St Stephen's Coorparoo.
You can read an article in the October edition of Anglican Focus magazine which gives a great overview of Helen Barrett's life of service and dedication: https://anglicanfocus.org.au/2019/10/02/helen-barrett-mbe-ao-st-aidans-alumna-revered-in-the-solomons/
May she rest in peace and rise in glory.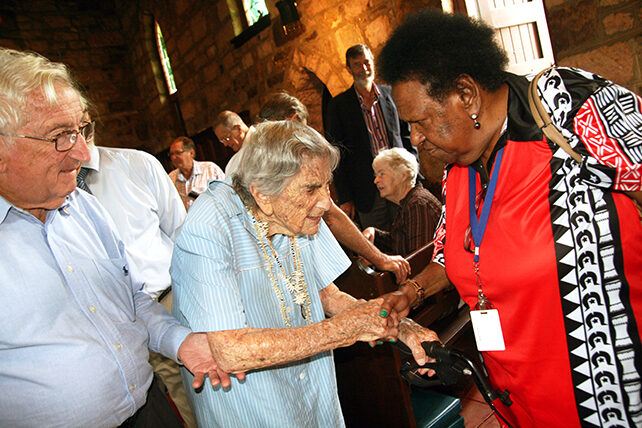 Sr Helen Barrett being congratulated by Rose Elu, a member of the National Aboriginal and Torres Strait Islander
Anglican Council, after receiving the ABM Coaldrake Award. © Sarah Gover/ABM 2017.