ABM Archive Website
THIS WEBSITE CONTAINS ARCHIVE MATERIALS FOR HISTORICAL REFERENCE ONLY
For up-to-date information, including our latest appeals, news, and resources, please visit our current website.
Vale John Grainger
May 8, 2019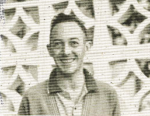 Today we received the sad news that former ABM missionary John Grainger passed away on the afternoon of Tuesday 7 May, 2019.
John trained as a missionary at ABM's House of the Epiphany in Sydney in 1962 which prepared him for his six years of service. An article in the ABM Review had the following introduction:
"A Cockney by birth, migrated with his parents in 1951, and has been accepted by the Bishop of New Guinea as a builder. He has come via St Paul's Kingsville, Diocese of Melbourne, where he was a printer for 10 years."
John served in Papua New Guinea on the building team: at the Anglican Mission in Eroro in 1963, Martyrs' Memorial School in 1964, and St Luke's Hospital in 1965. From November 1965, he held the position of Manager at the Diocese of Melanesia's printing press in Taroaniara on Nggela Island in the Solomon Islands.
He and his wife Elaine, a nurse, married and had their children Michael and Margaret while working in PNG.
Don and Rosemary Mortimer are former ABM missionaries who also trained at the House of the Epiphany. Don shares his memory of their time in PNG:
"John went to Eroro to work with me in the construction of St Margaret's Hospital. He was a Lino-type setter (from the printing industry) and went up as a carpenter. He met his wife Elaine Boston, a nurse in Sydney who went up in 1964. They were married at St Andrew's Church Eroro by Archdeacon Byam Roberts (deceased), Nancy Vesperman (now Garland) bridesmaid and Alan White bestman."
"They then moved to St Lukes TB Hospital at Embi where they both worked, Elaine as a nurse and John as the powerhouse operator. They went on leave to take up a post where John ran the printing press in Melanesia."
The funeral service will be held on Tuesday 14 May at 2.00pm at St Paul's Church Geelong.
Our thoughts and prayers are with all his family and friends.
May he rest in peace and rise in glory with Christ.