ABM Archive Website
THIS WEBSITE CONTAINS ARCHIVE MATERIALS FOR HISTORICAL REFERENCE ONLY
For up-to-date information, including our latest appeals, news, and resources, please visit our current website.
Vale John Stephenson
May 1, 2014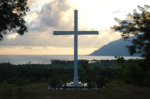 It is with great sadness that ABM farewells former staff member John Henry Stephenson whose funeral was held last Thursday 24th April at St Peter's Cathedral, North Adelaide, attended by our Executive Director the Rev John Deane.
In 1986 John Stephenson accepted the invitation of Bishop Ken Mason, Chairman of ABM, to be the Executive Officer. He held the position until 1994.
The gracious hospitality of John and his wife, Denise, was warmly enjoyed by many people. His creative energy and enthusiasm encouraged and inspired ABM partners, staff and supporters. He will be fondly remembered.
May he rest in peace and rise in glory.