ABM Archive Website
THIS WEBSITE CONTAINS ARCHIVE MATERIALS FOR HISTORICAL REFERENCE ONLY
For up-to-date information, including our latest appeals, news, and resources, please visit our current website.
Vale the Rev Canon Arthur Fellows (1922-2020)
March 18, 2020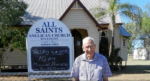 Staff at the Anglican Board of Mission are saddened by the news that the Rev Canon Arthur Fellows has died at the age of 97 years. During his working life, he spent a considerable amount of time supporting ABM in many ways.
Father Arthur became a deacon in 1950, was priested in 1951 and received his first posting to Rockhampton, the diocese where his father worked as a priest for 60 years. He was Vicar at Springsure and Callide Valley.
He preached over many years in the Brisbane Diocese around the Toowoomba district, serving in Oakey, Roma (where he was appointed Rural Dean for the West), Auchenflower, Nundah, Cleveland, Redland Bay and All Saints Wickham Terrace. He was also Canon Emeritus at St John's Cathedral.
Fr Arthur served from 1973 to 1983 as the Provincial Secretary for the Australian Board of Missions Queensland and preached in areas as varied as the Atherton Tablelands, Papua New Guinea, the Solomons, Fiji, Tonga, Cape York, the Northern Territory and Torres Strait islands.
When he was asked about this, he said "It was an amazing 10 years," although admitting that it could also get "pretty hairy" visiting remote communities "flying by the seat of your pants beside a pilot in a single-engine Cessna".
Bishop Bill Ray, Chair of the ABM Brisbane Committee, remembers Fr Arthur as "a person with a sound mind, a very good mind who was awarded the John Forster Prize while he was studying theology."
"He had a great sense of what the Church was about and saw mission as the prime purpose of the Church."
Even in his 90s, Fr Arthur found time and energy to arrange for the sale of used postage stamps collected from parishes, with the proceeds going towards ABM's funding.
In 2017, the Anglican Board of Mission awarded him with the Coaldrake Medal in recognition of his contribution and faithful service to ABM.
Fr Arthur met his late wife Beverley at church, and she played an active role which included as a Sunday school teacher, church organist, a member of the Mothers' Union for more than 50 years, the Australian Board of Missions Auxiliary, and the Clergy Wives Association.
He married his children and baptised each of his nine grandchildren, two of whose weddings he also officiated at, and baptised his two great grandchildren. Our sincere thoughts and prayers are with his family at this difficult time.
There will be a Requiem Funeral Mass held at 2:00pm on Friday 20 March in All Saints Anglican Church, 25 Wickham Terrace (cnr Wharf and Ann Streets), Brisbane.
The Mass will be live streamed for those unable to attend. Please contact K.M. Smith Funeral Directors for details.
May he rest in peace and rise in Glory.