ABM Archive Website
THIS WEBSITE CONTAINS ARCHIVE MATERIALS FOR HISTORICAL REFERENCE ONLY
For up-to-date information, including our latest appeals, news, and resources, please visit our current website.
Vale The Rev Trevor Bulled
June 16, 2016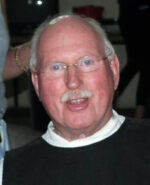 We are sad to hear that the Rev Trevor Bulled passed away on Friday 10th June, 2016, after suffering from prostate cancer.
Father Trevor served as ABM National Auxiliary Executive Member, Queensland, and was Parish Priest at Holy Trinity Anglican Church in Fortitude Valley.
In a letter from The Most Reverend Dr Phillip Aspinall, Archbishop of Brisbane, he said that Father Trevor "was to have concluded his ministry in the parish on the Feast of St Matthew (on 21 September this year), which would have been the 41st anniversary of his ordination as priest. However, ill-health prevented him from reaching this milestone.
"Whilst at Holy Trinity, Father Trevor was appointed Priest-in-Charge of the Torres Strait Islander Non-Geographic Parish (2000-09). He also served as Area Dean of Brisbane North (2000-02).
"Father Trevor spoke recently of the joy he felt during the Christmas services at Holy Trinity last year and that everything seemed to him spiritually right and in its place – a feeling of joy in faith surrounded him – which he experienced through the worship and the great beauty of the Christmas music in the parish.
"We thank God for the life of Father Trevor and for the dedicated ministry he exercised in Christ's name in this Diocese and, before that, in Bendigo."
A Thanksgiving for his life and funeral will be held on Saturday 25th June, 2016, at Holy Trinity, Church Street, Fortitude Valley with viewing from 9.00 -10.30am, and Funeral Requiem to commence at 11am. Fr Trevor will be laid to rest at a Graveside Committal Service on Thursday 30th June, 2016, at 10.00am in the South Lawn Section of the Echuca Cemetery, Victoria.
Our thoughts and prayers are with his family and friends, may he rest in peace and rise in glory.