ABM Archive Website
THIS WEBSITE CONTAINS ARCHIVE MATERIALS FOR HISTORICAL REFERENCE ONLY
For up-to-date information, including our latest appeals, news, and resources, please visit our current website.
Vale the Revd Canon James Stacey
October 15, 2014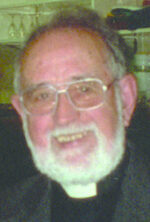 ABM has just received the sad news that the Revd Canon James Stacey passed away last week. He had a fall about three months ago and it was discovered he had brain cancer.
Fr James was an ABM missionary in PNG from 1951-1954. He served as a regional officer for ABM in NSW from 1963-1968 and was ordained as a deacon and priest by the Bishop of Bathurst in 1968. He served in the dioceses of Bathurst, Northern Territory and The Murray. Fr James retired as Rector of Waikerie in 1993, but served as locum tenens at Renmark from 2005-2008.
His funeral will be held in Saint Augustine's, Renmark, South Australia on Friday 17th October at 10.30am.
Our thoughts and prayers are with his family and friends, may he rest in peace and rise in glory.