ABM Archive Website
THIS WEBSITE CONTAINS ARCHIVE MATERIALS FOR HISTORICAL REFERENCE ONLY
For up-to-date information, including our latest appeals, news, and resources, please visit our current website.
Vale The Reverend Canon Ron Morris
April 7, 2017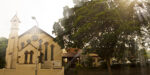 ABM is sad to hear of the recent news that the Reverend Canon Ron Morris passed away on Sunday, 2nd April. Fr Ron was a former ABM Missionary.
The Reverend Dr John R. Bunyan shared his memory of Fr Ron, telling us:
"He was, among many other things, an outstanding Headmaster of Martyrs' School in PNG (following trips to PNG that he organised for boys from Canberra Grammar School). He worked subsequently in the Education Department of PNG. Earlier he was on the staff of St John the Baptist's Parish Church in Canberra and then Chaplain of Canberra Grammar School where I first met him in 1959. In recent years he has attended St Luke's. He was a Canon, I think, of Dogura Cathedral though he never bothered about that title."
There will be a Requiem funeral service on Monday 10th April at 11 am at St Luke's Church, 11 Stanmore Road, Enmore.
Please note there is very limited parking in the church car park.
There is 2 hour parking in a Council car park behind Enmore Road on the eastern side. There are buses that set down at the corner of Enmore and Stanmore Roads, Enmore – these include the M30 from the north side of the harbour.
For any enquiries, contact St Luke's Church office: 9557 4219.
Our thoughts and prayers are with his family and friends, may he rest in peace and rise in glory.
(Image from www.stlukesenmore.org.au)