ABM Archive Website
THIS WEBSITE CONTAINS ARCHIVE MATERIALS FOR HISTORICAL REFERENCE ONLY
For up-to-date information, including our latest appeals, news, and resources, please visit our current website.
Vale The Reverend Graham Lindsay Bride
August 17, 2018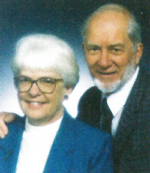 ABM received the sad news that former ABM missionary, The Reverend Graham Lindsay Bride, passed away on Monday 13 August, 2018.
Fr Graham and his wife Margaret, pictured, served as ABM missionaries in Papua New Guinea between 1997 and 2000.
Fr Graham studied at Trinity (ACT) and Canterbury, and afterwards was ordained Deacon in Melbourne in 1959 and to the priesthood in 1960.
He served as Curate at Holy Trinity Hampton (1959-61); Curate in the Department of Industrial Mission (1964-69); held the Archbishop's Permission to Officiate in Melbourne (1969-81); Chaplain to the Alfred Hospital (1981-95); Area Dean of St Kilda (1988-91) and ABM Missionary (1997-2000).
Margaret was a former member of the ABM Melbourne Diocesan Committee, and had assisted Bishop David Hand with his book Modawa, as well as writing a resource book on the Martyrs of Papua New Guinea and Melanesia.
The funeral will be held at St Martin's Hawksburn at 2.00pm on Friday 17 August.
We thank God for Fr Graham's faithful service and ministry. Our deepest sympathy goes out to Margaret and their family at this difficult time. Please keep them in your prayers.
May he rest in peace and rise in glory.