ABM Archive Website
THIS WEBSITE CONTAINS ARCHIVE MATERIALS FOR HISTORICAL REFERENCE ONLY
For up-to-date information, including our latest appeals, news, and resources, please visit our current website.
Voices for Justice in Canberra
November 30, 2016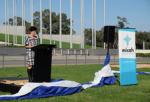 Last week the ABM Advocacy Officer, Jess Melas, was in Canberra as part of the Micah Australia Voices for Justice event. The event brought together hundreds of Christians from all persuasions, who share a passion for social justice and poverty alleviation.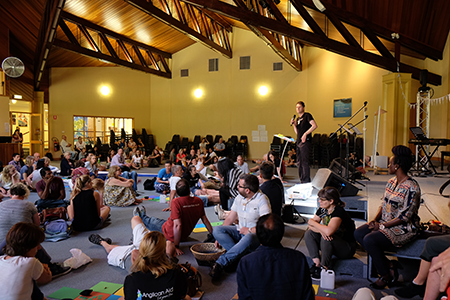 Ben Thurley, National Coordinator of Micah Australia, speaks at a
workshop during the Voices for Justice event. © Jess Melas/ABM, 2016
The event kicked off with workshops on the two central themes: Climate Justice and Australian Aid funding to the Asia-Pacific region. The growing frequency of severe storms in the region was a key discussion point, as the effects are intensely felt by the most vulnerable members of our regional community, reversing gains in development and poverty reduction.
According to a UN report for the period 2005 – 2014*, the Asia-Pacific region experiened 1,625 disaster events in which 500,000 people lost their lives, around 1.4 billion people were affected, and $523 billion in economic damages was suffered.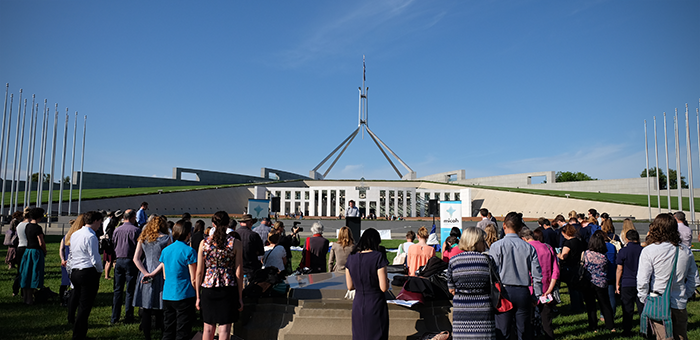 Voices for Justice delegates gather outside Parliament House to pray.

© Jess Melas/ABM, 2016
The last day was dedicated to practical action, as delegates converged on Parliament House to petition politicians for more tangible action on Climate Change and increased funding for Disaster Risk Reduction programs in our Asia-Pacific region.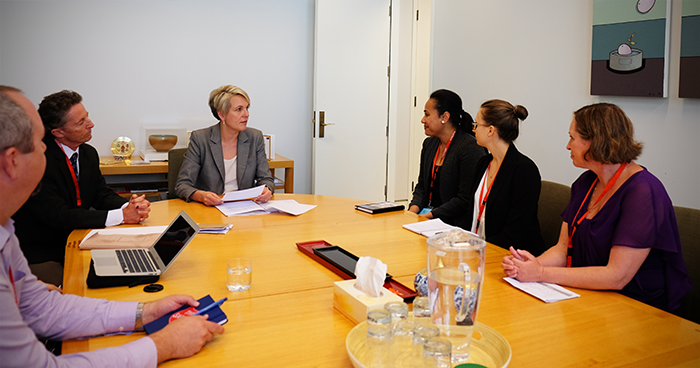 Delegates meet with Hon Tanya Plibersek MP in Parliament House.

© Jess Melas/ABM, 2016
Over 90 MPs and Senators from every party were met with individually, among them Tanya Plibersek, Jason Falinski, and Derryn Hinch, who were presented with a list of practical actions that could be taken to effect change in these areas. Delegates had the opportunity to relate personal stories, and many from the Pacific recounted experiences of violent cyclones and rising sea-levels that threatened their way of life.
MPs were also presented with a personalized letter from community leaders in the Asia-Pacific region, carrying the voices and requests of people who normally would not be heard in these corridors of power. ABM arranged several of these letters through our partners The Anglican Church of PNG and The Anglican Church of Melanesia. To read these powerful petitions for justice, please click here.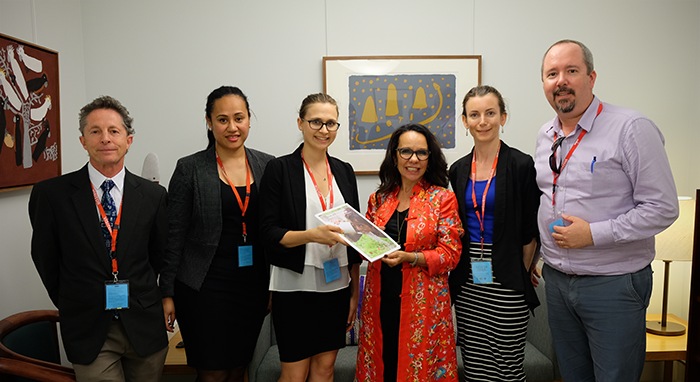 Hon Linda Burney MP is presented with recent Climate research from Caritas Australia, by Micah delegates.
ABM Advocacy Officer Jess Melas is pictured second from the right.

© ABM, 2016
Micah Australia will continue to work with all sides of Parliament in moving forward on these issues, ensuring that our closest neighbours are heard and supported in their pursuit for Climate Justice.
*The Asia-Pacific Disaster Report 2015 – Disasters without Borders. This is the flagship publication of UN Economic and Social Comission for Asia and the Pacific (ESCAP)