ABM Archive Website
THIS WEBSITE CONTAINS ARCHIVE MATERIALS FOR HISTORICAL REFERENCE ONLY
For up-to-date information, including our latest appeals, news, and resources, please visit our current website.
Week of Prayer for Reconciliation, 27 May – 3 June 2015
May 19, 2015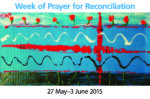 27 May to 3 June 2015 is the Week of Prayer for Reconciliation.
This week is commemorated with prayer and reflection and coincides with National Reconciliation Week (NRW) activities in Australia.
The theme for NRW 2015 is It's time to change it up.
We pray and give thanks for the different national and church organisations, dioceses and parishes which have all shared the Reconciliation journey. We pray for ABM's partnerships and projects with Aboriginal and Torres Strait Islander clergy and communities.
You can download ABM's flyer to display as well as to use as a prayer resource.
Download ABM's 2015 Week of Prayer for Reconciliation flyer.


National Reconciliation Week coincides with two significant dates in Australia's history which provide strong symbols of the aspirations for reconciliation. May 27 marks the anniversary of the 1967 Referendum which saw over 90 per cent of Australians vote to give the Commonwealth the power to make laws for Aboriginal and Torres Strait Islander peoples and recognise them in the national census. On June 3, 1992, the High Court of Australia delivered its landmark Mabo decision which legally recognised that Aboriginal and Torres Strait Islander peoples have a special relationship to the land—that existed prior to colonalisation and still exists today. This recognition paved the way for land rights called Native Title.
(Source: http://www.reconciliation.org.au/)
RECONCILIATION RESOURCES
ABM has produced some resources which may be downloaded from our website for use during this week. These include a liturgy, intercessions and reconciliation related activities. Please find these under the website Resources section: National Reconciliation Week, 27 May – 3 June 2015.